Stories
Matters of the Heart
Dramatic innovations in cardiac catheterization mean fewer conditions require open-heart surgery. Seattle Children's interventional cardiologists are helping show the way.
Linda Webster felt "absolutely horrible" when she found out her daughter Cassie, then 5, had a hole in her heart the size of a quarter.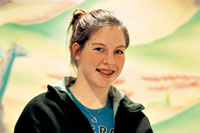 "I started to cry at work," she says. "Our doctor at Seattle Children's said the hole was significant and would need to be repaired before Cassie hit puberty or her heart could fail as she matured."
At the time of Cassie's diagnosis in 1998, open-heart surgery was generally the only way to close a hole in the heart. But researchers were investigating new options to make the repair without surgery.
"The doctor said we didn't need to fix it right away," says Webster. "We decided to wait awhile to see if the new technology would be developed in time for Cassie."
New Options, New Opportunity
When Cassie was 8, her doctors told the family about a new procedure and device they were testing that closes holes in the heart without surgery.
The new procedure used cardiac catheterization, in which doctors use the bloodstream to get to the heart and repair it from the inside as opposed to cardiac surgeons who open the chest to access the heart.
Seattle Children's was the first to establish a pediatric cardiac catheterization intervention program and pediatric electrophysiology program in the Pacific Northwest.
Seattle Children's interventional cardiologists were pioneering these devices in the Pacific Northwest and Cassie was a prime candidate for the procedure because of the size and position of her hole. The family decided to go ahead.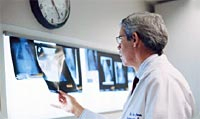 During Cassie's procedure, Dr. Tom Jones, director of Seattle Children's Cardiac Catheterization Laboratory, made an incision in a vein near her groin. He inserted a flexible hollow tube called a catheter and navigated it through her body's veins until it reached the hole in her heart.
He pushed a device out of the catheter made up of two wire mesh discs. One disc covered one side of the hole and the other disc covered the other side of the hole.
The doctor released the device to implant it in her heart. The lining of the heart grew over the discs and completely sealed the hole.
"You make hard choices as a parent and always worry about making the right decision," says Webster.
"But this procedure was great for us. The closure device is a little miracle because we avoided open-heart surgery. It was so much less traumatic for all of us and it was 100% successful. Cassie is 13 and healthy. She's on the swim team and plays volleyball, soccer and basketball."
Less Invasive, As Effective
"We do diagnostic evaluations and treatments in the cardiac catheterization laboratory," says Dr. Jones, an internationally respected expert in cardiac catheterization who is known for both pioneering new devices and teaching the latest techniques to cardiologists throughout the United States.
"Procedures in the cardiac catheterization laboratory are much less invasive than surgery," explains Dr. Troy Johnston, assistant director, Cardiac Catheterization Laboratory.
"The children experience less pain, have a shorter recovery time and can go home on the same day. There's less potential for risk and discomfort, and it's much easier for the patients and their families."
With open-heart surgery, children are often in the hospital for three days, suffer from more pain, take longer to recover and are potentially at risk for greater complications.
Rather than a large incision on the chest from open-heart surgery, patients with cardiac catheterization procedures have tiny incisions at the top of the leg.
Addressing Common Defects
Heart defects such as Cassie's are the most common, and potentially the most serious, of all birth defects.
About one in every 100 babies born in the United States — about 32,000 every year — have heart defects.
Left untreated, heart defects may lead to limited activity, abnormal development, respiratory infections, heart failure and even death.
As the only regional pediatric referral center in the Pacific Northwest, Seattle Children's Heart Center offers a team of specialists who deal exclusively with heart disease in children.
The Heart Center provides comprehensive pediatric cardiac care — from noninvasive diagnosis and treatment to cardiac catheterization to surgical repair of very complex heart defects.
Seattle Children's Heart Center offers a team of specialists who deal exclusively with heart disease in children.
Dramatic advances within the cardiac catheterization arena have allowed interventional cardiologists to treat more conditions in the laboratory rather than the operating room.
"Our care has evolved a great deal in the last 10 years," says Dr. Jones. "Then, we mostly provided diagnosis for heart conditions and rarely treatments. Now, two-thirds of our procedures are therapeutic in nature."
For instance, in 1999, 10% of cardiac surgeries at Seattle Children's were for atrial septal defects (ASD), a hole between the upper heart chambers.
By 2003, only 1% of all cardiac surgeries were for this defect. The rest were performed in the cardiac catheterization laboratory as an outpatient procedure.
Besides closing different types of holes in the dividing wall between the upper and lower chambers of the heart, interventional cardiologists can also open narrowed heart valves and arteries.
Reduced Need for Heart Transplants
The electrophysiology service also uses the cardiac catheterization laboratory to diagnose and treat irregular heart rhythms.
Just a few years ago, intractable arrhythmias necessitated a heart transplant. Now, many can be corrected in the electrophysiology laboratory.
"When a child's heart beats too fast," says Dr. Jack Salerno, Seattle Children's electrophysiologist, "we can use radiofrequency ablation to cauterize a small area of tissue that prevents the irregular heartbeat from recurring."
Slow heart rhythms can be corrected with an implantable pacemaker. Heart rhythms that can cause sudden death are treated with an implantable defibrillator.
State-of-the-art Care
Seattle Children's state-of-the-art cardiac catheterization laboratory was the first to establish both a pediatric cardiac catheterization intervention program and pediatric electrophysiology program in the Pacific Northwest. The laboratory is also the first to pioneer a number of innovative interventional procedures in the region.
"The large number of patients we treat, 500 to 600 children a year, gives us a vast amount of experience in dealing with a wide variety of heart problems," emphasizes Dr. Jones.
"Our highly specialized team includes interventional cardiologists, an electrophysiologist, nursing staff, radiology technicians and anesthesiologists who are dedicated to this work full-time.
"We work very well together and anticipate each other's moves — that's the secret to our success."
The team collaborates with the rest of the Heart Center staff including other cardiologists and cardiothoracic surgeons.
Improving Care Through R & D
The cardiac catheterization group also partners with biotechnology companies to develop leading-edge treatments.
"We are currently involved in seven clinical trials of various devices to close holes in the heart," says Dr. Jones, "and we participate in basic research. This allows us to bring advances in care and emerging technologies to our patients as soon as possible."
The potential for cardiac catheterization advancements continues to grow in leaps and bounds.
"An exciting area of development is using cardiac catheterization and surgery in succession or simultaneously for complex heart problems," notes Dr. Jones. "This allows us to tackle conditions that previously had limited options and limited successes."