Science Job Opportunities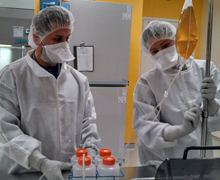 Working at the Therapeutics Cell Manufacturing facility is more than a job – it's an opportunity to be part of a breakthrough. We manufacture immunotherapies that are revolutionizing cancer treatment and putting children into remission. Everyone on our team plays a vital role in creating these therapies, and in helping us find ways to improve our processes and procedures. The lab space in Building Cure was designed with an open layout with few walls and doors specifically to support collaboration among team members and to accommodate expanding programs – every aspect of our work environment has been built with teamwork in mind.
Changing the Lives of Children With Cancer
One highlight of working here is getting the opportunity to deliver our therapies to patients. This means taking the therapies to Seattle Children's Hospital, bringing them to a patient's bedside and watching the cells get infused.
For these patients, the infusion can be a last chance to beat cancer. For our team, it's an opportunity to meet the people we are working to save. Our team members aren't required to participate in these deliveries, but many of them say it's an exceptionally gratifying part of their job.
"When we deliver the cells and prepare them for infusion, we are lucky enough to be able to meet our patients and their families. There's a huge sense of pride in the work we do, but also responsibility, as we know who is at the receiving end of our efforts. Because of this we are always motivated to do our very best."
Learn about a few of the children, teens and young adults who have participated in our CAR T-cell clinical trials and who have achieved long-term remission.
Jobs at the Forefront of Science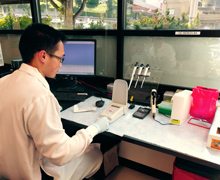 Every team member at the Therapeutics Cell Manufacturing facility has the opportunity to:
Receive comprehensive training. Some of our employees arrive here with years of experience. Others are right out of college. All of them complete a rigorous, months-long training program to learn our processes and techniques.
Contribute to a dynamic team. Whether they're growing cells in our Good Manufacturing Process (GMP) facility, performing quality control tests or conducting critical support activities, all employees work in close collaboration. They share a passion for science, and constantly trade insights and learn from each other.
Improve our work processes. We constantly refine our manufacturing processes to make them better and more efficient. We encourage all employees to help with this by identifying areas where we can improve and voicing their suggestions.
Learn from top scientists. Everyone on our team is invited to regular meetings with the principal investigators who lead our clinical trials. This is a unique opportunity to learn about the science behind our trials, and to interact with some of the world's leading immunotherapy researchers.
"The culture here is based on valuing everyone's perspective and opinion. We all get to make decisions and have input on changes that could make the facility work even better."
Advance Your Science Career
We take pride in helping our team members expand their skills, deepen their scientific knowledge, discover the path that most excites them and advance their careers. Our employees often work here for many years, taking on new roles and responsibilities as they gain experience and discover new interests. There will be even more advancement opportunities in the years ahead, as we launch more clinical trials, expand production of our therapies and work to make the most of our increased GMP space.
"I started in an entry-level position and got to learn every aspect of a how a GMP facility runs. Now I'm a supervisor overseeing a manufacturing team. I can't imagine doing anything else."
"I don't need to look for the next best thing. I'm already a part of it!"