Get to Know Seattle Children's Research Institute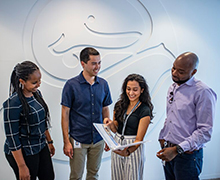 Seattle Children's Research Institute is one of the nation's leading pediatric research organizations. Every day, our team of dedicated investigators tackles some of the toughest childhood diseases and addresses our nation's biggest health challenges.
Learn how you can help children lead their healthiest, happiest lives by getting involved with Seattle Children's Research Institute.
Get to Know Us
Visit the Discovery Portal
Located in our Downtown Seattle campus, our Discovery Portal visitor center offers the chance to learn about the breadth and depth of research happening here.
Attend an event
Attend an event, meet our researchers and hear about their remarkable work first-hand.
Request a speaker
Request a researcher to visit your community organization or place of work and share their exciting discoveries.
Get the latest news
Sign up to receive information from us, including email updates, event invitations and more. Email us to join our mailing list.
How You Can Help
Philanthropic support has a tremendous impact at the research institute, helping attract and retain the best scientists and accelerate research breakthroughs.
Give now
People have many reasons for giving. You may have had a personal experience with Seattle Children's, or you may simply be interested in the well-being of all children. Your donation will provide hope where it truly makes a difference. Donate now.
Become a Research Champion
Give children with serious illnesses the hope that the lifesaving cures of tomorrow are within reach today. Qualify for Research Champions with a gift or grant that supports research at Seattle Children's in the amounts of $1,000 for individuals and family foundations, or $2,500 for organizations.
Join or start a research guild
Get together with friends, family and co-workers and turn an activity you love into a way to support research at Seattle Children's. Learn more.