Tyler Ketterl Awarded DOD Grant to Study Germ Cell Cancers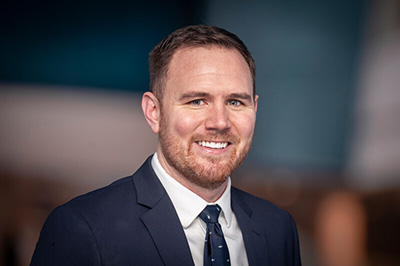 April 13, 2023 – Congratulations to Dr. Tyler Ketterl, medical director of Seattle Children's programs in Adolescent and Young Adult Oncology and Comprehensive Fertility Care and Preservation, for his four-year, $1.3 million Peer Reviewed Cancer Research Program Translational Team Science Award from the U.S. Department of Defense (DOD) to study germ cell cancers.
Ketterl, also a principal investigator in Seattle Children's Research Institute's Ben Towne Center for Childhood Cancer Research and assistant professor of Pediatrics at the University of Washington School of Medicine, will partner on the research project with co-principal investigators from Dana Farber Cancer Institute and the University of British Columbia.
Malignant germ cell tumors are one of the most common solid tumors in adolescents and young adults. They are highly curable, yet current treatment regimens often come with high toxicity rates. The current treatments, which include a chemotherapy medication called cisplatin, are known to have significant short- and long-term toxicities including permanent, irreversible hearing loss and damage to the kidneys.
Ketterl and colleagues believe body composition (the body's percentages of fat, muscle and bone) at diagnosis and changes in body composition during the course of chemotherapy may be predictive of side effects from chemotherapy. This hypothesis has not been previously studied in pediatric, adolescent and young adult patients with germ cell tumors.
"Two individuals with the same height and weight who differ in muscle and fat tissue may have significant differences in responses to chemotherapy and side effects," Ketterl said.
The study team plans to embed their research within a large clinical trial already underway that has been collecting imaging, hearing, toxicity and outcome data. They aim to validate an automated system to analyze body composition from CT scans and compare this to manual methods.
"This grant is a great next step for me and one of the largest grants I have ever received," Ketterl said. "The preliminary work for this project was built on support from smaller foundational grants, Seattle Children's pilot grants, support from my mentors, institutional courses and national programs that I participated in as a young investigator."
Ketterl is hopeful the research will provide unique insights into side effects from chemotherapy and the lasting impact of treatments on survivorship.
"This study may completely change future chemotherapy dosing for germ cell tumors, and potentially for many other tumors," he said. "This may support development of targeted exercise interventions and investigation of alternate dosing strategies.
"In addition, the use of CT software to quickly calculate body composition measures could have important clinical applications across many treatments and diseases affecting pediatric, adolescent and young adult patients," Ketterl said.
— Colleen Steelquist