Shaun Jackson Receives $3 Million Lupus Research Alliance Team Award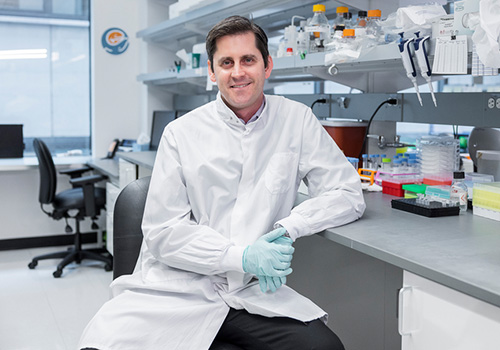 August 2, 2023 – Congratulations to Dr. Shaun Jackson, principal investigator in Seattle Children's Research Institute's Center for Immunity and Immunotherapies, for his $3 million, three-year Global Team Science Award (GTSA) from the Lupus Research Alliance (LRA).
Lupus is a chronic, complex autoimmune disease that affects millions of people worldwide. In lupus patients, the immune system, which is designed to protect against infection, creates antibodies that can target any part of the body. Symptoms vary widely, from rashes and debilitating fatigue to life-threatening organ failure.
The grant, the largest given by LRA, unites a multidisciplinary research team of experts in immunology, pediatric rheumatology and nephrology, genetics and data analysis to identify drivers of pediatric lupus nephritis — kidney involvement in lupus patients — with the aim of improving its diagnosis and treatment.
This project is being led by Dr. Elena Hsieh (Children's Hospital Colorado) and includes collaborators from Texas Children's, University of Michigan Health–Ann Arbor, University of Colorado's Anschutz School of Medicine, Rockefeller University, as well as Seattle Children's Research Institute. The team will investigate immune cell abnormalities and genetic changes in patients with pediatric lupus nephritis, with the goals of better predicting response to treatment and disease progression, and of accelerating personalized treatments for the disease.
Patients will be enrolled from many institutions across the U.S., including Seattle Children's, as well as in Europe and Asia. The team will study kidney biopsy tissue samples from this large cohort, including those in high-risk racial/ethnic groups such as those of African American, Hispanic and Asian racial/ethnic origins who typically have a higher frequency of kidney involvement and more severe disease activity.
The team will use imaging techniques to characterize molecular, cellular and structural changes in patients' kidney biopsies and identify associations between these changes and the patients' disease course. Patients will then be grouped based on the changes observed in their kidney biopsies, clinical presentation, clinical laboratory measures, response to treatment, and genetic alterations. Grouping patients based on their clinical characteristics will help identify treatments that work best for each group.
As a pediatric rheumatologist and nephrologist, Jackson will use his expertise in pediatric kidney disease and tissue molecular analysis to co-lead the immunological and kidney imaging studies.
"Improving the care of children with autoimmune kidney disease was the reason I pursued combined training in pediatric nephrology and pediatric rheumatology," said Jackson, who is an associate professor of pediatrics at the University of Washington School of Medicine.
"Compared with adults, children with lupus are more likely to develop kidney involvement," he said. "However, why kidney inflammation is more common in childhood and what causes early onset disease is poorly understood. It's exciting to be part of this team that aims to recruit patients from across the globe, with the goal of discovering genetic drivers of childhood-onset lupus nephritis at the tissue level."
— Colleen Steelquist