Identifying Genetic Regulators of Opioid Tolerance
Aug. 18, 2022
While opioid drugs are the most potent pain relievers in a physician's arsenal, their use is limited by serious caveats like tolerance, a precursor to addiction. Preventing tolerance—the need for larger and more frequent doses of an opioid to gain the same painkilling effect—could increase these drugs' safety and pave the way for opioid addiction prevention and treatment.
Dr. Brock Grill, principal investigator in the Center for Integrative Brain Research at Seattle Children's Research Institute and a professor in the departments of Pediatrics and Pharmacology at the University of Washington School of Medicine, has pursued this major clinical problem for a decade in collaboration with Dr. Kirill Martemyanov and his team at UF Scripps Biomedical Research.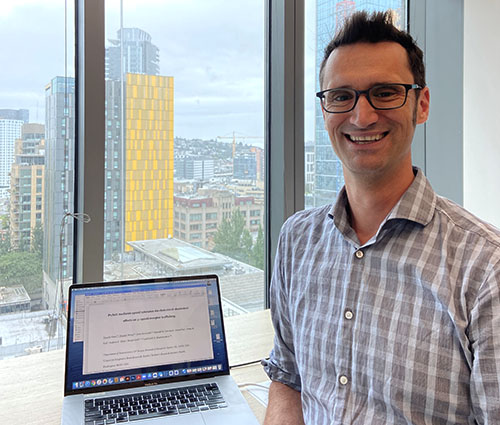 Grill's research group is one of the first to use unbiased, forward genetic approaches (looking not for a specific gene, but for a specific characteristic that defines gene function) to identify genetic regulators of opioid tolerance.
"Our approach is a bit like hunting for a needle in a haystack. We're looking for that one organism among thousands that has a genetic change that results in altered opioid responses. Ultimately, we let biology itself guide us in unlocking the cellular and genetic secrets that underpin opioid tolerance," said Grill of unbiased, forward genetic approaches.
The collaborative teams' findings, published in Nature Neuroscience, provide new insight into a molecular genetic mechanism that affects tolerance at the behavioral level.
"To my surprise and delight, simple genetic model organisms appear to hold the keys to understanding complex behaviors associated with opioid analgesia, addiction and withdrawal," Grill said. "Our study opens up whole new ways of thinking about, studying and potentially treating opioid use disorder."
The research team found that when they eliminated a receptor on nerve cells called PTCHD1, the organisms lost tolerance to repeated doses of opioid drugs.
"Discoveries like this give us a theoretical molecular target for developing a drug that would allow existing opioid medications to be used to kill pain while preventing development of tolerance and possibly addiction," Grill said.
Withdrawal from chronic opioid use also remains a major, growing medical problem with no substantial treatment options. The identification of a new molecular target with the potential to modify withdrawal symptoms after ceasing chronic opioid use could also potentially answer a significant unmet medical need. The team's findings indicate that PTCHD1 could potentially be targeted to treat a range of withdrawal symptoms.
Former Grill Lab researcher Dandan Wang, PhD, contributed to the study while working for Seattle Children's Research Institute. The research was supported by the National Institute on Drug Abuse and by a generous donation in honor of Timothy Jackson.