Partnership Opportunities
New Therapeutic Approaches for Tuberculosis
Targeting phosphosignaling pathways and non-replicating bacteria
Technology Overview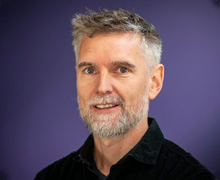 Dr. Chrisoph Grundner
Dr. Christoph Grundner's research is phosphosignaling in Mycobacterium tuberculosis (Mtb). Phosphosignaling pathways transduce external signals into cellular responses via reversible protein phosphorylation. Kinase and phosphatase enzymes in these networks are potential therapeutic targets.
Phosphosignaling
The Grundner lab uses unbiased, systems-wide approaches to determine the network connectivity and discover new, uniquely bacterial themes in Mtb phosphosignaling. The group identified extensive protein tyrosine phosphorylation in Mtb and a kinase that acts as the switch between latent and replicating states in the bacteria. The lab is exploring the phosphosignaling enzymes as drug targets by leveraging existing resources for targeting human kinases.
Activity-based proteomics
Many diseases are exacerbated by populations of persistent cells that are difficult to eradicate because they are not replicating and their metabolism in this state is unknown. The Grundner group finds vulnerable enzymes that might be drug targets in these non-replicating cells. They use activity-based proteomics to identify potential targets for Mtb and other infectious agents such as Plasmodium falciparum, a cause of malaria. This method differs from typical proteomics because it detects the function of proteins instead of only their abundance.
Activity-based proteomics selectively labels proteins using a function-based probe. Labeled proteins are identified using mass spectrometry. The technique reveals the function of the identified proteins such as protease or ATPase. The probe molecule can be a starting point for target-based drug discovery.
Opportunities
Dr. Grundner is interested in partnerships that use his expertise in identifying targets and candidate drug compounds for infectious diseases, including by screening compound libraries.
Stage of Development
Partnering Opportunities
Collaborative research opportunity
Sponsored research agreement
Consultation agreement
Activity-based proteomics
Mycobacterium tuberculosis whole-cell screening
Publications
Learn More