About Us
Seattle Children's Intellectual Property Core can connect researchers and industry collaborators to help bring big ideas to the marketplace and improve the lives of patients everywhere.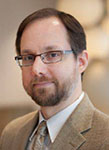 Dr. Brian Phillips is the director of the Intellectual Property Core, the technology commercialization department at Seattle Children's. Seattle Children's is a top children's hospital as ranked by U.S. News & World Report and one of the nation's top five pediatric research centers in National Institutes of Health funding. Dr. Phillips is responsible for the day-to-day management of the department and staff as well as preparation and management of the departmental budget. He is also involved in developing and implementing university policies, providing leadership in developing strategies for industry partnerships, and serves as a Seattle Children's spokesperson for matters relating to intellectual property and commercialization. Dr. Phillips also serves as an Observer on the Board of Directors of GentiBio, Inc., a Seattle Children's startup company dedicated to developing gene-edited regulatory T-cell based therapeutics, and MDmetrix, Inc., a Seattle Children's startup company dedicated to developing a new data analytics platform for healthcare electronic medical records systems.
Previously, Dr. Phillips served as a senior licensing manager with the Baylor Licensing Group at Baylor College of Medicine and in technology transfer roles with the Texas A&M University System and William Marsh Rice University in Houston, Texas. He came to Seattle Children's in 2017 as the founding director of the Intellectual Property Core and has been working to develop the commercialization efforts since that time. Dr. Phillips received his bachelor of science in Biology from the University of Houston and a PhD in Biomedical Sciences with a research emphasis in Biochemistry from the University of Texas M.D. Anderson Cancer Center Graduate School of Biomedical Sciences in Houston, Texas.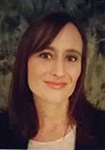 Andrea Beeks joined the Seattle Children's Intellectual Property Core in January of 2020 as the patent and finance manager. She is responsible for invention intake, obtaining signatures on assignment agreements, federal reporting, and all financial matters related for the office.
She obtained a bachelor of science degree in Hospitality Management from The Ohio State University in 2002 and worked in hotel management until 2013. After her departure from the hospitality industry, she joined The Ohio State University's Corporate Engagement Office as a fiscal officer, where she discovered a passion for technology transfer operations. In 2017 she accepted a position as the director of customer implementation with a software startup that was spun out of Ohio State, which focused on providing intellectual property management solutions for technology transfer offices.
Tandi Collisson is a senior business development manager in Seattle Children's Intellectual Property Core. She has a law degree and is experienced at licensing, commercialization, and intellectual property management. Prior to her work in technology management, she worked at two life sciences companies, and received a master of science degree in Neuroscience at UT Southwestern Medical Center, where she studied developmental neurobiology and molecular biology. She is also a registered patent attorney with the USPTO.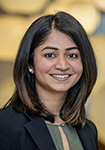 Dr. Kamya Rajaram is a business development associate in Seattle Children's Intellectual Property Core. Dr. Rajaram joined the Intellectual Property Core team in 2018 and is responsible for evaluating commercial potential of new technologies, coordinating patent filings with outside counsel, technology marketing and licensing.
Prior to joining Seattle Children's, Kamya was a fellow in the Business Development and Strategy group and trained as a post-doctoral associate in cancer research at Fred Hutchinson Cancer Center. She received her PhD in Biological Sciences from Vanderbilt University, with a research emphasis in developmental biology and molecular biology. She has an MSc (Hons) degree in Biological Sciences from Birla Institute of Technology and Science, Pilani in India.