Welcome to the Cherry Lab
We are looking for highly-motivated individuals for postdoctoral and research scientist positions. For more information, email Tim Cherry.
The Cherry Lab investigates how the visual system develops, and how genetic variations contribute to blindness and other visual disorders. Our ultimate goal is to develop new therapeutic strategies to treat these disorders.
Unlocking the non-coding genome in vision and disease
More than 250 genes are mutated in human visual disorders. However, 30-50% of cases of inherited visual disorders cannot be explained by mutations in protein-coding genes alone. This strongly suggests that mutations within non-coding regions of the genome contribute to human vision and inherited visual disorders.
Promoters and enhancers are major functional components of the non-coding genome that work together to regulate the precise timing, cell-type-specificity and physiologically-appropriate levels of expression of their target genes. Individual studies have shown that mutations within enhancers of retinal disease genes can cause human visual disorders. However, it has been impossible to systematically identify and interpret most of these mutations because the genomic locations and functions of human retinal enhancers are largely uncharacterized.
The Cherry Lab utilizes high-throughput DNA and RNA sequencing technologies to identify and characterize human and mouse retinal enhancers to elucidate the transcriptional regulation of retinal development and function. This powerful dataset has already allowed us to discover novel disease-associated enhancer variants in patients with inherited retinal disorders.
Understanding how enhancers contribute to disease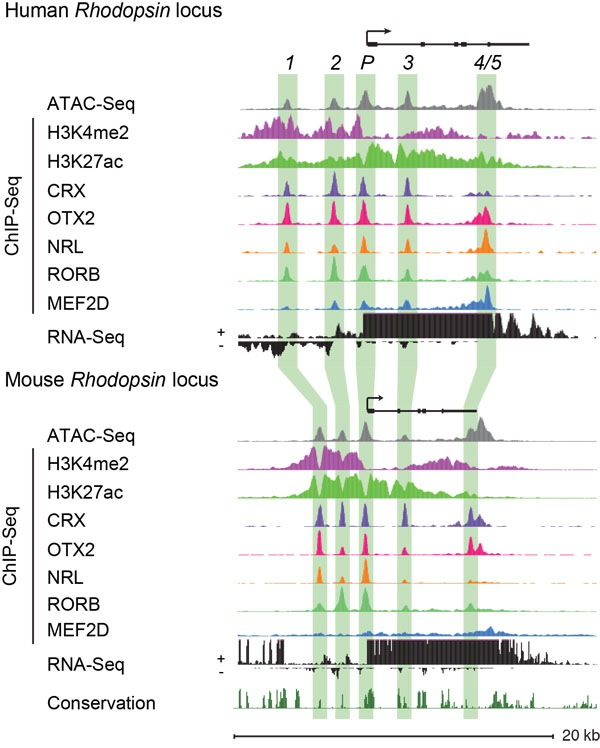 We are now tackling the next major hurdle in understanding the significance of enhancers in retinal function and disease, by developing the ability to manipulate enhancer function in the native context of the human genome. Most genes, including those that are essential for retinal function, have multiple enhancers that work together to regulate gene expression. However, exactly how these enhancers work together is poorly understood.
Our goal is to determine the contribution of enhancers to the regulation of critical retinal disease genes using methods to test the role of these elements in the context of the endogenous genome. This project's aims include:
Establish a human in vitro platform to model retinal disease-associated enhancer function.
Determine the requirement of enhancers for retinal disease-associated gene regulation in vivo.
Pursuing cures for visual disorders
Our lab is also working to "rewire" genetic switches, with the goal of correcting the genetic problems that drive visual disorders. We are pursuing ways to instruct stem cells or skin cells to become healthy retinal cells. Our vision is to someday use these cells to replace faulty cells and cure visual disorders in children and adults.
Selected Publications
Andzelm, M.M.*, Cherry, T.J.*, Harmin, D.A., Boeke, A.C., Lee, C., Hemberg, M., Pawlyk, B., Malik, A.N., Flavell, S.W., Sandberg, M.A., Raviola, E., Greenberg, M.E. (2015) MEF2D Drives Photoreceptor Development through a Genome-wide Competition for Tissue-Specific Enhancers. Neuron. 86, 1-17. * equal contribution.
Cherry, T.J., Wang, S., Bormuth, I., Schwab, M., Olson, J., Cepko, C.L. (2011) NeuroD factors regulate cell fate and neurite stratifcation in the developing retina. J. Neurosci. 31(20), 7365-7379.
Cherry, T.J., Trimarchi J.M., Stadler M.B., Cepko C.L. (2009) Development and diversification of retinal amacrine interneurons at single cell resolution. Proc Natl Acad Sci USA 106(23), 9495-9500.
Sun, T., Patoine, C., Abu-Khalil, A., Visvader, J., Sum, E., Cherry, T. J., Orkin, S. H., Geschwind, D. H., and Walsh, C. A. (2005). Early asymmetry of gene transcription in embryonic human left and right cerebral cortex. Science 308, 1794-1798.
See a complete list of Cherry's publications on PubMed.
Investigator Biography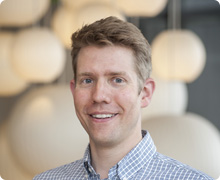 Timothy Cherry, PhD, is an assistant professor at the University of Washington School of Medicine's Department of Pediatrics and Division of Genetic Medicine, and a principal investigator at Seattle Children's Research Institute's Center for Developmental Biology and Regenerative Medicine.
Contact Us
Physical Address
Seattle Children's Research Institute: Jack R. MacDonald Building
JMB - 5 - Center for Developmental Biology and Regenerative Medicine
1900 Ninth Ave.
Seattle, WA 98101
Telephone
Email