CCTR Funding and Educational Programs
Pediatric Pilot Funds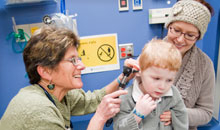 The purpose of the Center for Clinical and Translational Research (CCTR) Pediatric Pilot Funds (PPF) program is to cultivate outstanding new research, stimulate preliminary data in novel research directions and launch new nationally funded clinical research programs at Seattle Children's. The outcomes of funded projects should help investigators prepare competitive submissions to extramural funding sources.
Pediatric Pilot Funds are intended for junior faculty with limited funding, senior faculty who are beginning a new area of translational research and/or the development of new collaborative teams. Proposals addressing clinical/translational research involving any childhood disorder or pediatric antecedents of chronic adult disorders will be considered. In 2021, the program is continuing highlighting projects that support the initiation of translational research efforts.
The Program is particularly looking to fund projects that demonstrate
K to R transition projects and/or
Collaborative multi-PI projects demonstrating future submission to extramural funding sources.
The program is administered by Pediatric Pilot Fund Review Committee Chair Dr. Seth Friedman and the Center for Clinical and Translational Research (CCTR) Business Office.
Award Details
Funding
Amount awarded will be a maximum of $20,000 for studies with a single Principal Investigator (PI). Projects that involve more than one PI from different divisions or departments can apply for up to $40,000. Projects can be up to two years in length.
Multi-year projects will have a set Year 1 and Year 2 budget. Year 2 funding will be contingent on Year 1 progress. Funds must be expended within the approved award period and carry-over from year to year is not allowed.
No-cost extensions are not allowed.
Awards are intended to support the direct costs of research at Seattle Children's. Indirect costs are not allowed. Awards should not be used to fund work occurring at an external institution and sub-award contracts will not be approved.
International projects involving recruitment of participants, prospective collection of data, or transfer of funds abroad will not be funded at this time.
Eligibility
Applicant must be a Seattle Children's-based investigator.
Primary member of the CCTR with a faculty appointment.* Future grant applications must be submitted through CCTR.
Seattle Children's nurse researchers are also eligible to apply if they are members of CCTR.
Fellows, other trainees or affiliate members are not eligible.
* If not yet appointed a faculty member, a letter from the division head/department chair should be supplied stating the date of appointment will commence at or before the time that PPF funding begins.
Allowable costs include:
Personnel and/or investigator salary
Travel (lodging, meals, transport, airfare, etc.) for the PI to present findings related to the awarded project. Travel must follow Seattle Children's travel and reimbursement policies. You must attach your abstract to your travel request to document travel was for the purpose of presenting your work.
Supplies and research equipment (capital equipment is not an allowable cost).
Other expenses, such as fees for core services and publication expenses.

Obtaining a consultation from the Biostatistics, Epidemiology and Analytics Research Core (BEAR) is required as part of the application process. Sign off is needed from BEAR even if your project does not require biostatistical support.
Application Requirements
Specific application instructions, format requirements and submission information can be found in the Pediatric Pilot Fund Application and Checklist document.
Key Dates
| PHASE | DATE |
| --- | --- |
| RFA Released | May 28, 2021 |
| Biostats Due | July 2, 2021 |
| Budget Draft Due | July 9, 2021 |
| Applications Due | August 6, 2021 |
| Review of Applications | August 2021 |
| Award Announcement | September 1, 2021 |
| Project Initiation Period | September 1–30, 2021 |
| Funding Begins | October 1, 2021 |
More Information
Have questions? Review the Frequently Asked Questions section in the Overview of the PPF (PDF).
Contact Information
Seth Friedman, PhD, PPF Committee Chair