Understanding how the mind, brain and immune system work together to impact outcomes for young patients with cancer.
The Biobehavioral Oncology Research Program studies how psychosocial and neuroimmune processes impact pediatric and adolescent and young adult (AYA) patients with cancer. Our research focuses on identifying and understanding how positive and negative biopsychosocial factors — like stress, anxiety, depression, resilience and social support — influence clinical cancer outcomes and quality of life for patients.
Our team uses innovative translational biobehavioral approaches to hone in on the mechanisms linking behavioral and health outcomes. Our multidisciplinary team is integrated with the Palliative Care and Resilience (PCAR) program. Together, our goal is to better understand and define biopsychosocial relationships in young patients with cancer. This will lead to targeted behavioral and medical interventions to help support whole-person oncology care.
Current Projects
Biomarkers of stress and resilience in AYAs receiving bone marrow transplants
In partnership with Dr. Abby Rosenberg, we are collecting biologic data from AYA patients receiving a resilience intervention while undergoing bone marrow transplant. Participants are fitted with a wearable device that tracks heart rate variability (HRV), which is a marker of the 'fight-or-flight' response. Blood samples are also collected to measure a gene expression pattern (the conserved transcriptional response to adversity, CTRA) that is 'turned on' by stress and can increase inflammation. These stress biomarkers are then mapped onto patient-reported measures of stress, resilience, anxiety, and depression.
By identifying stress biomarkers and linking them with psychosocial symptoms and clinical outcomes, we hope to design interventions targeting the stress response. Interventions tailored to an individual's "stress phenotype" could include positive psychology and stress reduction modalities and medications to reduce adrenergic activation.
Patient-reported social and behavioral determinants of health and a social genomics profile in patients receiving bone marrow transplants
We collected clinical data from a recent study conducted by The Center for International Blood and Marrow Transplant Research (CIBMTR). This included blood samples and surveys from patients receiving bone marrow transplants describing their quality of life and social well-being. Blood samples were used for RNA sequencing to measure a social genomic expression pattern (CTRA) and mapped onto patient-reported outcome surveys. Pinpointing psychosocial and socioenvironmental factors that are important to patients, like social well-being and quality of life, and are linked to medical outcomes like relapse and survival.
Biobehavioral mechanisms in immunotherapy
We are just beginning to explore psychosocial aspects of immunotherapy for children and AYAs. There are unique mental and physical symptoms, stressors and socioenvironmental factors for patients and families receiving immunotherapy. Our lab is interested in exploring biobehavioral relationships among patients who receive CAR T-cell therapy, including measuring and classifying stress biomarkers in this growing population.
Our Team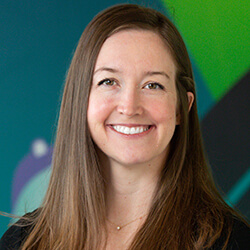 Molly Taylor, MD, MS
Dr. Mallory (Molly) Taylor grew up in rural Lockwood, Missouri. After completing her undergraduate degrees in psychology and microbiology at the University of Arizona, she moved to Santa Barbara, California, to work for a local nonprofit organization and coach volleyball. Next, she did her medical training on the East Coast at Dartmouth Medical School in Hanover, New Hampshire. She completed her pediatrics internship at the University of Chicago and her pediatrics residency at Seattle Children's Hospital. Dr. Taylor then moved to the small town of Kenai, Alaska, to work as a general pediatrician for one year before returning to Seattle to complete her fellowship in pediatric hematology/oncology. She is an attending physician in the Cancer and Blood Disorders Center with a primary focus on solid tumors. She is also a principal investigator in the Ben Towne Center for Childhood Cancer Research. Her research interest is biobehavioral pediatric oncology.
Chrissie Cirovic, ND

Clinical Research Coordinator I

Dr. Chrissie Cirovic brings over a decade of experience in both molecular oncology research and clinical practice to her role as clinical research coordinator. As a clinician, she educated patients in evidence-based techniques to help mitigate the effects of stress on disease. She joined Seattle Children's to work in concert with Dr. Molly Taylor and the PCAR team to explore patient-reported outcomes and psychosocial biomarkers in pediatric and AYA cancer. Dr. Cirovic offers a unique insight to elucidating the molecular underpinnings of mind-body medicine.

Dr. Fladeboe is a developmental psychologist who specializes in developmental and psychosocial health needs of adolescents and young adults with cancer.

Jorie Wittig, BS

Jorie is a medical student at the University of Washington. She has been with the team since the summer of 2022, focused on medical chart reviews, data entry and extraction. She has yet to choose a specialty but enjoys the field of pediatric oncology and is inspired by the research being done here at Seattle Children's. She is passionate about humanizing people in medicine and values the role that the research team plays in treating patients as entire, complex beings with anxieties, wishes and stresses that shape the journey of their illness.
Publications
See a complete list of Dr. Taylor's publications on PubMed.
---
Interested in joining the Biobehavioral Oncology Research Program? Please send your CV to molly.taylor@seattlechildrens.org.