Information for Participants
Thank You, TIDES Participants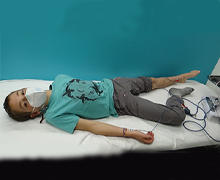 Thank you to the families who participated in the age 8–9 visit and previous study visits. We are making important discoveries about how the environment can affect a child's health, behavior and development. We understand what an immense stress COVID-19 has added for TIDES families. We appreciate the time and energy you have invested into the study, and we could not do this research without you.
Age 9–10 Visit
We are currently conducting the TIDES Age 9-10 in–person visit at the Seattle site.
We will ask the following from your child:
Measure height, weight, skinfold thickness and waist circumference
Blood pressure
Pulse wave velocity, a noninvasive measure of how fast blood is moving from the neck to the leg
Fill out surveys
Collect a blood and urine sample
Collect a shed tooth if you have one
Our study booklet describes your child's participation in further detail and can be helpful to use when talking to your child about the study visit.
We will ask the following from moms:
Measure height and weight
Fill out surveys about your own health and lifestyle and the health and behavior of your child
Visits take two hours to complete. Moms will receive $200 and your child will receive $50 to thank you for your time.
Next steps
A research coordinator will contact you via email and/or phone to determine your interest in participating in the age 9–10 visit and schedule your visit if you agree to participate. We very much look forward to being in contact with you again!
If you have questions, please email the study coordinator, Sarah Wang.
Study visit location
The age 9–10 visit takes place at the Pediatric Clinical Research Center at Seattle Children's Hospital.
Address
4800 Sand Point Way NE
Seattle, WA 98105
All parking is free. We recommend participants park in the Ocean lot. The Pediatric Clinical Research Center is located on Ocean level 8. See directions.
Research summaries
Phthalate mixtures in pregnancy, autistic traits, and adverse childhood behavioral outcomes. Day DB, Collett BR, Barrett ES, Bush NR, Swan SH, Nguyen RHN, Szpiro AA, Sathyanarayana S. Environ Int. 2021 Feb;147:106330. doi: 10.1016/j.envint.2020.106330. Epub 2021 Jan 5.
This study examined associations between phthalate exposures in pregnancy and child behavior at age 4. Phthalates are commonly found in consumer products, including plastic toys, food packaging, personal care products, cosmetics, air fresheners, and some medications. Phthalate exposure was measured using urine samples TIDES mothers gave during their pregnancy. Researchers found the following results: Early pregnancy phthalate exposures were associated with autism-related social impairment in both sexes. Early pregnancy phthalates were associated with worse adaptive skills in girls. Adaptive skills include: daily living activities, communication, and social skills. Late pregnancy phthalate exposures were associated with higher externalizing behaviors in boys, such as hyperactivity and aggression.
Associations between prenatal phthalate exposure and sex-typed play behavior in preschool age boys and girls. Evans SF, Raymond S, Sethuram S, Barrett ES, Bush NR, Nguyen R, Sathyanarayana S, Swan SH. Environ Res. 2021 Jan;192:110264. Epub 2020 Sep 28.
In this study, we examined exposure to phthalates in pregnancy in relation to how TIDES children played when they were 4-5 years old. Phthalates have been shown to interfere with testosterone, the male sex hormone that helps to pattern the brain during early prenatal development. We found moms who had higher levels of exposure to some phthalates early in their pregnancy reported that their sons were less likely to engage in types of play that are considered more male-typical, such as playing with cars, climbing, and playing sports and ball games. This makes sense given what we know about phthalates and about how the brain develops. The connection between phthalates and play behavior persisted even when we accounted for other factors like how parents would feel if their child engaged in play that is stereotypical of the opposite gender or whether the child had an older same sex sibling. Dr. Evans discusses her research and findings in this video.
Pregnancy intention and phthalate metabolites among pregnant women in The Infant Development and Environment Study cohort. Lyden GR, Barrett ES, Sathyanarayana S, Bush NR, Swan SH, Nguyen RHN. Paediatr Perinat Epidemiol. 2020 Nov;34(6):736-743. doi: 10.1111/ppe.12674. Epub 2020 Apr 6. PMID: 32249967; PMCID: PMC7541656.
People who plan their pregnancies are more likely to engage in healthful behaviors of pregnancy, such as not drinking alcohol and taking folic acid. Our study examined whether pregnancy planners also try to limit their exposure to phthalates or other chemicals in the environment. In TIDES, most pregnancies (71%) were planned, and first- and third-trimester phthalate levels were similar between planned and unplanned pregnancies. This might mean that even pregnancy planners did not attempt to limit phthalate exposure or were not successful. We expected that people with unplanned pregnancies might decrease their exposure from the first to third trimester, after having more time to learn and make behavioral changes, but we did not observe this pattern in TIDES. Finally, we found no differences between planned and unplanned pregnancies in a survey of environmental health attitudes and behaviors. Our study confirms the need for universal educational campaigns about the risks of phthalate exposure to pregnant people and the developing fetus.
Joint impact of phthalate exposure and stressful life events in pregnancy on preterm birth.
Ferguson KK, Rosen EM, Barrett ES, Nguyen RHN, Bush N, McElrath TF, Swan SH, Sathyanarayana S. Environ Int. 2019 Dec;133(Pt B):105254. doi: 10.1016/j.envint.2019.105254. Epub 2019 Oct 29.
Phthalate exposure combined with high stress during pregnancy is associated with preterm birth. Phthalates, compounds that are present in personal care products and plastics, have been commonly found in pregnant women. Although exposures to phthalates or stress have been independently associated with increased risk for preterm birth, their joint impact was unknown before this study. Using data from 783 pregnant women participating in TIDES, researchers obtained questionnaire information about stressful events in each trimester and measured urinary phthalate metabolites from up to three trimesters. We found an increased risk of preterm birth associated with phthalate metabolites in urine during the third trimester, but not the first trimester. Furthermore, adding the variable of stress to third trimester data showed that the association between phthalate metabolites in urine and preterm birth risk was only significant for women who reported at least one stressful life event during pregnancy versus those who did not. This study paves the way for understanding how combined exposure to environmental and psychosocial factors affect pregnancy.
A complete list of TIDES publications can be found here.
Newsletters