Provider, Nursing and Psychiatry Grand Rounds
Palliative Care Grand Rounds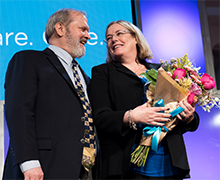 Barbara and Eric Mann have generously supported the Palliative Care Program at Seattle Children's since 2007. Their support in part allows for specialized education and training that enhances highly skilled clinicians in providing services to patients and families at Seattle Children's.
As a tribute to their generosity, Palliative Care has established the annual Pediatric Palliative Care Grand Rounds in their honor.
We are excited to announce our inaugural Grand Rounds:
Meeting Ethical Challenges With Integrity: Cultivating Moral Resilience
May 20, 2021, 8 to 9 a.m.
Cynda Hylton Rushton, PhD, RN, FAAN
Anne and George L. Bunting Professor of Clinical Ethics, Berman Institute of Bioethics/School of Nursing
Professor of Nursing and Pediatrics, Johns Hopkins University
Watch the live webcast:
Join Webex meeting.

Meeting number (access code): 808 078 285 Meeting password: napP7xhf

Join from a video system or application.
Join by phone.
Can't join the webcast? Get help.
Cynda Hylton Rushton, PhD, RN, FAAN
Dr. Cynda Hylton Rushton is the Anne and George L. Bunting Professor of Clinical Ethics at the Johns Hopkins Berman Institute of Bioethics and the School of Nursing, and co-chairs the Johns Hopkins Hospital's Ethics Committee and Consultation Service. In 2016, she co-led a national collaborative State of the Science Initiative: Transforming Moral Distress into Moral Resilience in Nursing and co-chaired the American Nurses Association professional issues panel that created A Call to Action: Exploring Moral Resilience Toward a Culture of Ethical Practice. She was a member of the National Academies of Medicine, Science and Engineering Committee that produced the report Taking Action Against Clinician Burnout: A Systems Approach to Professional Well-Being. She is a member of the American Nurses Association Center for Ethics and Human Rights Ethics Advisory Board and American Nurses Foundation Well-Being Initiative Advisory Board. She is the editor and author of Moral Resilience: Transforming Moral Suffering in Healthcare. Rushton is a Hastings Center Fellow and Chair of the Hastings Center Fellows Council and a Fellow of the American Academy of Nursing.