Provider, Nursing and Psychiatry Grand Rounds
Palliative Care Grand Rounds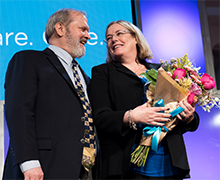 Barbara and Eric Mann have generously supported the Pediatric Palliative Care Service since 2007. Their sponsorship allows for specialized education and training for highly skilled clinicians in order to enhance the care of patients and families at Seattle Children's Hospital.
As a tribute to their generosity, we have established an annual Pediatric Palliative Care Grand Rounds in their honor.  
May 19, 2022
Centering the Good – Mann Family Pediatric Palliative Care Lecture
Speaker: Blyth Lord, Executive Director of Courageous Parents Network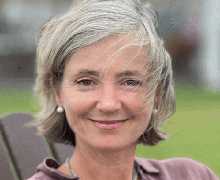 Blyth Lord is the founder and Executive Director of Courageous Parents Network, a national non-profit whose mission it is to empower, guide and support parents caring for children with serious illness and the pediatric providers that care for them. Blyth's daughter, Cameron, and nephew, Hayden, died of Tay-Sachs disease in 2001. In the years following, Blyth has promoted the needs of families caring for children with serious illness and how providers can best meet these needs. She is an involved and vocal advocate for pediatric palliative care. Drawing on more than 20 years of experience as a television producer (ABC News, Medical News Network, WGBH), she produced the award-winning film, "Cameron's Arc," with the American Academy of Pediatrics to educate doctors in working with families from the time of diagnosis through to the end-of-life. "Cameron's Arc" has been distributed nationally as a teaching tool to pediatric residency programs across the United States. Blyth is an affiliate member of the AAP's Section on Hospice and Palliative Medicine and a co-chair of the Section's Parent Advisory Group. She is also immediate past president of National Tay-Sachs and Allied Disease, the patient disease group. Blyth received her BA in History from Yale College and has a Master's in Education from Harvard.
May 20, 2021
Meeting Ethical Challenges With Integrity: Cultivating Moral Resilience
Speaker: Cynda Hylton Rushton, PhD, RN, FAAN
Johns Hopkins University
Dr. Cynda Hylton Rushton is the Anne and George L. Bunting Professor of Clinical Ethics at the Johns Hopkins Berman Institute of Bioethics and the School of Nursing, and co-chairs the Johns Hopkins Hospital's Ethics Committee and Consultation Service. In 2016, she co-led a national collaborative State of the Science Initiative: Transforming Moral Distress into Moral Resilience in Nursing and co-chaired the American Nurses Association professional issues panel that created A Call to Action: Exploring Moral Resilience Toward a Culture of Ethical Practice. She was a member of the National Academies of Medicine, Science and Engineering Committee that produced the report Taking Action Against Clinician Burnout: A Systems Approach to Professional Well-Being. She is a member of the American Nurses Association Center for Ethics and Human Rights Ethics Advisory Board and American Nurses Foundation Well-Being Initiative Advisory Board. She is the editor and author of Moral Resilience: Transforming Moral Suffering in Healthcare. Rushton is a Hastings Center Fellow and Chair of the Hastings Center Fellows Council and a Fellow of the American Academy of Nursing.