Neonatal Advanced Practice Provider Fellowship
New Graduate Neonatal Nurse Practitioner Fellowship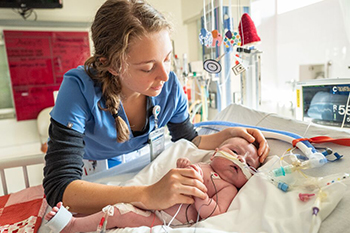 Welcome to the Seattle Children's New Graduate Neonatal Nurse Practitioner (New Grad NNP) Fellowship! Our mission is to provide board certified new graduate NNPs the post-Master's/Doctorate degree support, education, training, and skills they need to become successful and confident neonatal advanced practice providers. Our fellowship is a 12-month clinical and didactic training program with rolling entry of cohorts starting throughout the year.
Prerequisites

Prior to acceptance to the New Graduate NNP Fellowship, the new graduate NNP applicant must meet the following requirements:

graduated from an accredited NNP educational program
Master's degree or Doctoral degree in Nursing
NCC board certified
licensed in WA state

Facilities

New Graduate NNP Fellows will, initially, spend their time at one of the level III community sites in the SCH regional neonatology program before some independent practice. In the last half of the year, they will rotate through another level III NICU or at Seattle Children's level IV NICU to experience surgical care and increased complexity of patients. This will help establish a solid foundation as a neonatal advanced practice provider before moving to another site.

Providence Regional Medical Center, Everett, WA
Valley Medical Center, Renton, WA
St. Joseph Medical Center, Tacoma, WA
Seattle Children's Hospital, Seattle, WA

Curriculum

Onboarding and Welcome

The New Grad NNP will attend SCH onboarding activities and will be welcomed by the Neo APP leadership. Initial resources will be shared. An initial pre-program survey and skills checklist will be sent to the New Grad NNP to identify and self-identified areas of interest or need, as well as gap analysis.

Clinical Rotations

The New Grad NNP will rotate to at least 2 sites over the 12-month period beginning in one of the level III NICUs. New Grad NNP Fellows will always have experienced neonatal APP mentors with them who will guide them through expected clinical competencies. Neonatal New grad NNP fellows begin with a small patient load and are expected to progress on patient load and acuity each month. By months 4-6 and 10-12, the neonatal new grad NNP fellow will be taking an entire APP patient load daily with the mentor acting as a support person, providing minimal guidance as needed.

New Grad NNP Fellows spend 30-40 hours in clinical training each week on 12-hour shifts. The New Grad NNP Fellow will begin on day shift and will be expected to progress to a combination of day and night shifts by 3 months into their clinical training. Towards the end of training Neonatal APP fellows are able to train to 24 hour shifts.

Formal clinical evaluations are performed monthly by APP fellowship faculty.

Super-Mentor Program

We have developed a "Super-Mentor" Program which allows dedicated mentorship of our Neonatal new grad NNP fellows while on shift with varied other learners within the Seattle Children's program. The new grad NNP Fellow will have some clinical rotation shifts with the Super-Mentors and some with traditional Neonatal APP mentors, who split a caseload of patients with the learner.

Didactics

Twice a month didactic classes, with the PA Neonatal Fellows, with focus on support of practical application of critical thinking through case-based review of neonatal problems. These topics include complex fluid and electrolyte management, blood gas interpretation and ventilator management, difficult conversations involving the New Grad NNP Fellow in the new role, and other complex cases.

The foundational theory is based upon "From Novice to Expert" (Benner, 1984). A case-based, systems approach is valued and participants are asked to present one formal case-based topic to their peers to educate others and reiterate the value placed on mentorship and teaching, by all, at this academic institution.

Classes are led by one of the Neonatal APPs with sub-specialist guest speakers including dermatology, biomedical engineering, developmental services, nephrology, neurosurgery, vascular access service, ethics, and more. The goal for the sub-specialist guest speakers is to include content related to complex neonatal problems that may not have been part of their educational curriculum in the NNP academic programs.

The New Grad NNP Fellow will be provided with online resources, including a handbook with resources for each site. There will also be a didactic assignments to structure the discussion about their experiences, as well as one formal case presentation.

Procedural Skills

A gap analysis upon hiring will identify any specific procedural skill needs because of lack of opportunity during the NNP educational program. During clinical rotations, the New Grad NNP Fellow will be mentored in and will become competent in the following procedures and more:

intubation
umbilical line placement
chest tube insertion
needle thoracentesis
lumbar puncture
peripheral arterial line placement
peripheral IV placement

Faculty Members

Current New Grad NNP

Kennedy Brinkworth
Dafina Ibrani
Samantha Green
Leanne Stewart

How to Apply

New Graduate NNPs are welcome to apple at any time through our Careers page.

New Graduate NNP Fellows are selected based upon assessed qualities of academic achievement, neonatal nursing experiences, desire for learning, previous professional activities and contributions, ability to work a flexible schedule at various clinical sites, and confidence.
Contact us