Education
Advanced Practice Provider (APP) Fellowship Program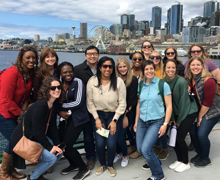 The mission of the APP Fellowship Program at Seattle Children's is to support newly graduated APPs or APPs with limited pediatric experience, in successfully entering their practice in a complex, highly collaborative pediatric setting. This one-year program will build on graduate academic training to strengthen and develop skills in a variety of domains critical to successful practice.
Seattle Children's has a diverse and often complex patient population. There are over 400 APPs working in a variety of pediatric specialties and subspecialties, including inpatient; ambulatory clinics; diagnostic and surgical areas; critical care; ED; and urgent care. Learning opportunities include hands-on patient care and formal and informal didactic opportunities.
We strive to be an inclusive community that represents our patients. Our community cultivates and promotes diversity and inclusion at all levels, empowering each of us to show up as we are every day.
Education is aimed at:
Strengthening critical thinking, evidence-based practice, procedural skill and confidence in a professional clinical setting
Clinical practice with a variety of pediatric patient populations
Development of a self-directed, life-long approach to learning
Acquisition of an individual practice style developed by exposure to multiple mentors and continuous feedback
Exposure to a variety of APP roles and their contribution to care teams
Bolstering resilience and acquiring skills to prevent burnout.
The acute care fellowship has three cohorts per year and accepts 10 candidates per cohort. This approach ensures new hires have a support group of peers, many of whom are new to the Seattle area.
Current APP students should visit our APP Student Clinical Rotation Request page for information on clinical rotations.
Meet our team

Program components

The APP fellowship offers:

Practice as a fully credentialed provider, seeing patients independently with mentorship and feedback
Rotations through related services
Didactic opportunities, including lecture, simulation and case-based learning

The year-long fellowship:

Provides a comprehensive introduction to family-integrated pediatric healthcare at Seattle Children's
Is structured so fellows' time is spent:

70% doing the work with feedback
20% learning by observing others
10% on didactic, including evidence-based best practices

Provides a minimum of 1,500 mentored clinical hours with specific feedback tailored to your goals
Introduces you to Seattle Children's workplace culture and processes
Practices 360-degree evaluation, inviting feedback from you on mentors and the fellowship program
Is designed to increase your clinical independence as the program progresses

Clinical rotations

All fellows spend the first three weeks in Boot Camp. Boot Camp is a period of intensive introduction to the practice environment at Seattle Children's. During Boot Camp, fellows will learn about the core rotations and electives and begin making their choices of assignments that will begin after the initial inpatient assignment.

After Boot Camp, the next four to six months are spent on an inpatient medical team working side-by-side with physicians, nurses, respiratory therapists, pharmacists and other direct care providers. Fellows rotate through at least two inpatient medical teams during this time period. These assignments are made by the fellowship. Fellows interested in providing care primarily in the ambulatory setting, may have their first rotation in selected ambulatory clinics.

After these inpatient rotations, fellows will begin doing core rotations. Examples of these rotations include ED, Orthopedics, Cardiac Surgery, APP Hospitalist Team, Urgent Care, Cancer Care, Adolescent Medicine and PICU.

Fellows spend approximately 1,500 hours in clinical practice during their fellowship year. All rotations provide transferable skills to any pediatric hospital-based setting. Examples of these skills are history gathering, physical exam, medical decision-making, clinical reasoning, presenting to a preceptor, creating a treatment plan, documentation, ordering, writing prescriptions, discharge planning, patient and family education and working within a care team. Clinical independence increases throughout the progression of the fellowship year. Preceptors from all practice areas communicate frequently and share information about fellows across practice settings so that growth can be continuous and aimed at identified areas of opportunity.

Evaluations are frequent and include everything from informal, in-the-moment feedback to formal, timed, structured feedback.

Didactic sessions are held twice monthly and all fellows attend all sessions. Content is spread out over the course of a year, so no matter which cohort a fellow is in, fellows attend all lecture topics. Lectures are delivered by a variety of disciplines across multiple specialty areas. Because Seattle Children's is a teaching hospital, there are multiple additional didactic opportunities that will be accessed throughout the course of the year. Didactic sessions have been approved for over 40 hours of Category 1 CE throughout the 12 month period.

In addition to clinical preceptors, fellows will be assigned to a fellowship supervisor who will act as their mentor throughout the course of the year. An important aspect of the APP Fellowship Program is the acquisition of professional behaviors and skills that will support a successful entry into practice. The fellowship mentor guides this process.

APP Fellows are also matched with a peer mentor. This peer mentor is an experienced APP, working at Seattle Children's. The goal of this relationship is to provide APP Fellows with support in navigating professional practice issues during their transition into the APP role.

Equity, Diversity, and Inclusion

Equity, Diversity, and Inclusion (EDI) is an embedded component of the APP Fellowship program. We make EDI education a priority for APP Fellows and the APP Fellowship Leaders.

Our EDI curriculum includes:

Didactic speakers
EDI training
Inclusive environment

Specialty track APP Fellowships

In addition to the APP Acute Care Fellowship, Seattle Children's offers two separate specialty Fellowship programs.

Neonatology: The Neonatal Physician Assistant Fellowship prepares APP's to practice in the Neonatal Intensive Care Unit (NICU). This track starts in the fall.
Psychiatry: The Psychiatry APP Fellowship supports the transition to practice of new Psychiatric Mental Health Nurse Practitioners as well as Physician Assistants wanting to pursue a professional practice in pediatric psychiatry. The program will prepare the Psychiatric APP Fellow in managing the complex care of children and adolescents with acute and chronic mental illness.

Living our values

Seattle Children's is committed to the concept of values-based behavior and the APP Fellowship incorporates these values in all of our activities. These behaviors are expected from the fellows, the leadership team and clinical mentors and preceptors. These six core values are universal across all departments at Seattle Children's, and the following are some examples of how our fellows exemplify them:

Compassion: We treat others with dignity and understanding in each and every encounter. We listen with humility and seek to understand.
Excellence: We practice at the highest standards of quality and safety. We learn from experience and commit to continually improve.
Integrity: We do what we say we are going to do. We are accountable for our actions.
Collaboration: We partner with others to help us succeed. We recognize the value and skills of others.
Equity: We create an environment where everyone feels heard, respected and engaged. We address biases and work to overcome stereotypes.
Innovation: We are inquisitive and have a desire to make things better. We are open to trying new things.

Benefits to you

NPs and PAs who finish the fellowship will be prepared to practice in settings such as specialty clinics, hospital medicine, urgent care and emergency departments.
You will gain experience working in a licensed credentialed provider role for a minimum of 1,500 supervised clinical hours.
Dedicated time for learning supports you as you grow into your professional role.

We help prepare you for a job in pediatric healthcare.

Without completing a fellowship, new graduate PAs are not likely to qualify for pediatric subspecialty positions. Although some new graduate nurse practitioners with clinical experience do get jobs immediately, a fellowship increases your chance of being hired for a regular position.
Working in Seattle Children's collaborative environment, you will learn from other APPs, physicians, nurses and other healthcare providers. Read more about our workplace culture.
Seattle is a fantastic place to live and work in. See details.

Expectations and compensation

Fellowships are for one year, for both nurse practitioners and physician assistants.
Schedules are planned in advance and you can expect to work days, nights, weekends and holidays.
Fellows are fully credentialed providers who can see patients independently with mentorship and feedback.
Fellows are employees of Seattle Children's, with salary and full benefits. The salary for an APP Fellow is $105,000 per year.
If hired into a regular, full time Nurse Practitioner or Physician Assistant position after completing the fellowship, you will receive a bonus of $15,000.

Eligibility requirements

To be eligible for the program, candidates must:

Have graduated from an accredited nurse practitioner (PNP-AC, PNP-PC, FNP) or physician assistant program.
Hold credentials/licensure required by the State of Washington.
Nurse practitioners: Active, unencumbered registered nurse and advanced registered nurse practitioner licensure in the state of Washington, plus active Drug Enforcement Authority registration.
Physician assistants: Active, unencumbered physician assistant licensure in the state of Washington and NCCPA board certification, plus active Drug Enforcement Authority registration.
It is recommended that fellows complete Pediatric Advanced Life Support (PALS) prior to their fellowship year.

Deadlines and how to apply

Applications will be accepted up to 12 months in advance of a cohort start date, and candidates will be selected on a rolling basis according to application submission date. Application closing dates are listed for each cohort below. However, cohorts may be filled prior to the listed dates, depending on the number of eligible candidates. In order to be considered for hire, candidates must be eligible to have proof of board certification 12 to 14 weeks prior to start date.

Upcoming cohorts and dates:

January 2024 Cohort

Start date: January 22, 2024
The January cohort has been closed and all further applicants will be considered for the May 2024 cohort.

May 2024 Cohort

Start date: May 13, 2024
Application close date: December 29, 2023

September 2024 Cohort

Start date: September 3, 2024
Application close date: April 15, 2024

Interested candidates can review job postings and apply on our website. Select "Advanced Practice Provider" from the "Category" dropdown menu.

In addition please submit the following to Janna Weiss:

A professional resume
Two letters of recommendation (please attach PDF copies):

One from a professor or clinical instructor
One from a current or former supervisor

Essay to include the following:

One paragraph describing why you are interested in participating in a fellowship program.
Provide us with a Statement of Purpose – up to 500 words

*Your application will not be considered without submission of these items
Questions?
For additional questions, email Janna Weiss.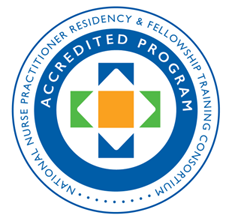 Visitors to our site are encouraged to provide public comment as part of our accreditation process. Please visit the Accreditation Status and Public Comment Website.