The Partnership Access Line – Pediatric Alaska (PAL-PAK) offers immediate support to pediatric care providers (doctors, nurse practitioners and physician assistants) in Alaska who have questions about child and adolescent mental healthcare, such as diagnostic clarification, medication adjustment or treatment planning.
PAL-PAK is available to any prescriber caring for children or teens in Alaska. The consultation service is state and grant funded, so there is no charge for calling the consultation line. Providers may call about any pediatric patient (ages 0 – 19), regardless of the patient's insurance type.
Consultations can be patient specific or can be general questions related to child psychiatry. The phone consultation is covered by HIPAA, section 45 CFR 164.506; no additional release of patient information is required to consult by phone.
Call 855-599-7257 (toll-free) Monday through Friday, 7 a.m. to 4 p.m. Alaska time, to be directly connected to a child and adolescent psychiatrist.
Help Me Grow Alaska

PAL-PAK is partnered with Help Me Grow Alaska (HMG-AK), a program that can locate local mental health resources for your patient. The PAL-PAK consulting psychiatrist can request the assistance of the HMG team to identify local resources. Alternatively, Alaska providers may contact HMG-AK directly to request resource help at 833-464-2527 (toll-free).
Provider Resources
More About PAL-PAK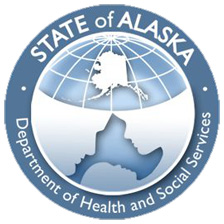 PAL-PAK is available to providers caring for any child or teen in Alaska. The consultation program is funded by the Alaska Department of Health and Social Services and the U.S. Department of Health and Human Services.
HRSA disclaimer
This resource is supported by the Health Resources and Services Administration (HRSA) of the U.S. Department of Health and Human Services (HHS) as part of an award totaling $2,215,029 with 20% financed with non-governmental sources. The contents are those of the author(s) and do not necessarily represent the official views of, nor an endorsement by, HRSA, HHS or the U.S. government. For more information, please visit HRSA.gov.
Medication Review Program
Second-opinion medication reviews are requested from the state when psychiatric medication is prescribed outside of state guidelines. A review will be triggered for:
Children receiving 2 or more atypical antipsychotics (AAPs)
Children age 5 or younger receiving psychotropic medications
Children receiving 4 or more psychotropic medications
It is important to note that Seattle Children's Hospital psychiatrists are one step in the state-mandated medication review process. We do not set state guidelines or flag specific medications, but we do believe in the value of peer review and provider-to-provider collaboration.
Please contact us if you have questions at 206-987-2702 or by email.