Patient Ambassadors
Meet Shanae

I Said Yes So My Daughter Can Live the Life She Loves
By Marisela Barragan Martinez, Shanae's mom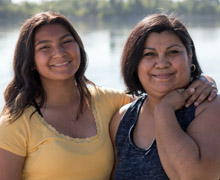 When my daughter, Shanae, was 9, I took her to the doctor for an annual checkup. The doctor listened to her heart for a very long time. I could tell by the look on his face that he was worried. He explained that it was crucial for us to see a specialist in Yakima, Washington, a city about 30 minutes away from where we live in the much smaller town of Toppenish, Washington.
In Yakima, a cardiologist monitored Shanae's heart and determined that two of her heart valves were leaking. At the time, my daughter excelled in gymnastics, but because of the diagnosis she had to give up the sport altogether. She loved doing flips and handstands during her gymnastics routines, but these moves were weight-bearing and would make her heart valves leak even more.
She was crushed. We were all crushed. Her heart condition was limiting the way she wanted to live her life. Her physical activity slowed down, and I even had to pull her from PE class. She was OK for two years, but she couldn't be very active (and she wasn't very happy). Then, in the blink of an eye, she got very, very sick.
Scrambling for answers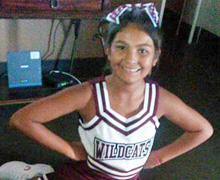 We consulted as many doctors as we could, but no one could tell us why Shanae was having persistent fevers and why her body temperature dropped to 87 degrees.
Finally, we met with Dr. Salaam Sallaam at Seattle Children's Tri-Cities who gave us his undivided attention and took the time to answer all of my questions. He did an ultrasound and explained what was going on – fluid had formed around my daughter's heart and traveled into her left lung. He gave orders for Shanae to be hospitalized immediately. Although the team at our local hospital tried to reduce the fluid buildup, her condition worsened and she had to be airlifted to Seattle Children's for a week-long stay.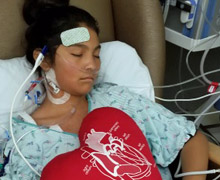 I was so scared. I immediately thought the worst when I first learned that my daughter's heart valves were leaky, but doctors back then told me that as long as she limited her physical activity – and didn't get her heart rate up too high – she should be OK through high school before she had to have surgery.
During her stay at Seattle Children's, I learned that Shanae would need surgery earlier than expected. Our team at Seattle Children's Heart Center suggested implanting a mechanical valve in Shanae's chest – an operation that would fix the leaky valve problem, but would never allow her to play contact sports.
Shanae wanted to try out for her school's volleyball team so badly, but I knew it would damage her heart even more. I stood firm when I told Shanae she would not be allowed to try out for the team, but Shanae pleaded with me. She said, "Please allow me to try out. If I'm going to die, I want to have done something in my life that I loved." My heart broke all over again.
An innovative approach for an active lifestyle
Once Shanae's team understood how much her quality of life – and her happiness – was tied to playing sports, they cautiously told us about an innovative surgical technique called the Ozaki procedure where the surgeon uses heart tissue to reconstruct damaged aortic valves. Although it had only been performed on a handful of children at other centers, it would allow Shanae to play sports. We made a leap of faith and said yes. Shanae was the first Seattle Children's Heart Center patient to undergo this procedure and it was a success!
Cheering into the future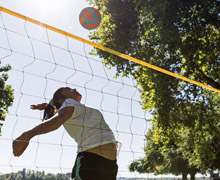 Shanae recovered perfectly. Today, her latest passion is high school cheerleading, but her first love will always be playing volleyball. Because of Seattle Children's, my daughter lives life to the fullest – she's just as driven in the classroom as she is competing in sports. Last year, she was the freshman class president of Toppenish High School!
I'm so thankful to Seattle Children's and to the donors who help improve kids' lives by funding all that goes into new procedures like this one. I can't thank our team at Seattle Children's Heart Center enough for not only helping my daughter, but helping me remain calm and informed. They truly eased my pain when I saw my daughter suffering. Now, Shanae lives the life she always wanted. To this day, we're still speechless. Every so often we look at each other and ask, "Did all of that really happen?"
Meet More It Starts With Yes Patient Ambassadors
About It Starts With Yes
It Starts With Yes: The Campaign for Seattle Children's is a bold initiative to partner with our community and deliver on our shared vision to transform children's health for generations to come. With your generous support, we can envision a day when we can say yes to hope, care and cure for every child. See what your yes can do and donate today.