Event Planning Resources
Sharing Best Practices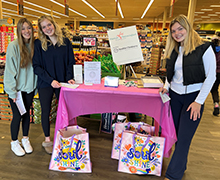 In March, guild members near and far gathered for the Guild Association's virtual Best Practices meeting to learn from the experts about fundraising, event planning, membership and more. The event featured eight virtual breakout rooms hosted by guild members well-versed in their subjects. We share highlights from two sessions below. All the presentations were recorded and can be viewed under Fundraising FUNdamentals.
Tips for Planning Outdoor Events
Presenters Mebie Thompson and Rebecca Wilson shared that, with a little creativity and planning, almost any indoor event can be adapted for an outdoor venue. Here are a few planning considerations:
Venue options
Public spaces include city parks, community centers and school grounds.
Private spaces include backyards, business parking lots, green spaces and golf courses. Note: If you are hosting a party at a private home, check with the city or county on party size and noise laws.
Space matters
Will you need a stage, tables, chairs, tents, fencing and signage? Walk through your event plan with your venue contact to see what they have available and what you will need to rent separately.
Identify sound, lighting, Wi-Fi and other technology needs.
Permits
Start by asking both the venue and the city:
Is there an occupancy limit?
If you are hosting a fun run or bike ride, do you need to request closure of a parking lot or street?
Do you need permits for sound, lighting and tents?
If you are serving food and beverages, will you need a health department or alcohol server permit?
Maximizing Event Revenue
Andrea Stiles, who has 14 years of event planning experience with Project Grace Guild and serves on the Guild Association fundraising committee, provided insights for leveraging your event theme, corporate sponsors and games. She encourages guild members to start planning early, get creative (try something completely new!) and pursue sponsors you already have an "in" with. For example, most of her guild's corporate sponsors employ guild members or their friends and family. Here are a few more of her tips to best your last fundraiser total:
Less is more: When you bundle auction items, the revenue is often higher than having more individual items, which can overwhelm attendees.
Raise-the-paddle trick: Request audience members to commit to the highest dollar amount first, and prearrange with someone in your audience to bid that amount to jump-start bidding.
Leverage Amazon: Register your event with Amazon Smile so a portion of members' and supporters' Amazon purchases add to event revenue.
Keep the focus on kids: Feature artwork painted by children, show a video of a patient story or invite a patient ambassador to speak at your event to remind guests that their gifts make a real and significant impact for kids bring treated right in our own backyard.
Friendly competition: Encourage guests to give more by instigating a "giving rivalry" — moms vs. dads, Huskies vs. Cougars, or challenge those sitting on each side of the room to "outgive" the other.
Take-home decor: Auction your centerpieces at the end of the event to generate revenue and ease cleanup.
Extend the giving: End your event by sharing ways for your audience to stay engaged with your guild. Include a link to your website for further donations, and be sure to send it to those who were unable to attend your event.
My Equity, Diversity and Inclusion Journey
During his Best Practices presentation, Guild Association equity, diversity and inclusion (EDI) subcommittee chair Michael Hirschler encouraged guild members to find ways to engage in learning around EDI and shared about his personal journey. He recommends the Showtime series Everything's Gonna Be All White, which gave him new insights into America's past and present through the experiences of people of color.
Questions? Email us.