Event Planning Resources
It Starts With Yes Toolkit: Inspire Others to Say Yes

We're excited about the many stories driving It Starts With Yes: The Campaign for Seattle Children's, and we invite you to join us in sharing them. Below are some tools to make it easier for you to let friends and supporters know how they can say yes!
For information on how to receive or reserve campaign-related items, talk to your guild association staff liaison or call Malia D'Alio at 206-987-6928.
Shout It From the Mountaintop
Let your members and event audiences know you are part of this exciting campaign! Add the It Starts With Yes logo to invitations, flyers, posters and other print and web materials. Share Seattle Children's campaign stories and videos, available on the It Starts With Yes home page.
Additional It Starts With Yes promotional materials available for your use include the campaign video, patient story videos, Odessa Brown Children's Clinic video, patient story cards, provider profile cards and pocket guides. Insider tip: Pack your wallet with these handy, colorful pocket guides that explain why we're embarking on this campaign and provide an overview of priority funding areas.
Spotlight a Patient Ambassador
It Starts With Yes patient ambassadors are patients (and their families) who share why they say yes to Seattle Children's by telling their personal hospital experiences. Show a video about them at your next meeting or event, or share printed patient ambassador profiles or web stories you can send via email. Based on the timing and location, ambassadors are also willing to speak at your meeting or event – please provide as much notice as possible.
Yes Swag
We have It Starts With Yes logo items available for your next meeting or event (based on availability – please order early.)
Share Your Yes!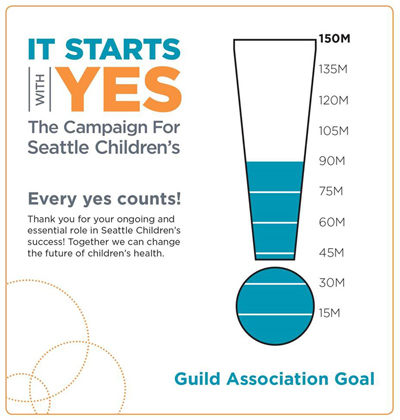 In each issue of Guild News we'll feature guild members and why they say yes to Seattle Children's. We'd love to share your story! Email Marie Jones or call her at 206-987-6928 for details.
Thank you for your ongoing and essential role in Seattle Children's success! Together we can change the future of children's health.