Madhavi M. Lakkaraja, MD, MPH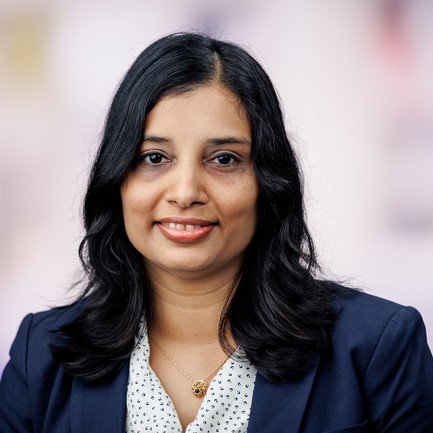 "I am fortunate to be able to care for children with blood and immune disorders. It is a humbling experience to be with children and their families through this process and then see them come out of a stem cell transplant and move forward in their lives. Research is a key component of this specialty, so I can provide patient care and push the field forward at the same time. Seeing a child smile and to be able to make a difference for my patients and their families is what really keeps me going."
Dr. Madhavi Lakkaraja is a physician-researcher who specializes in the treatment of children with non-malignant disorders through use of stem cell transplantation and cellular therapies. These include bone marrow failure disorders and inherited immune disorders. Her research work focuses on developing personalized approaches to stem cell transplant and cellular therapies and immune reconstitution post stem cell transplant.

Manuscripts in Refereed Journals

Lakkaraja M, Scordo M, Mauguen A, Cho C, Devlin S, Ruiz JD, Klein E, Avecilla ST, Boulad F, Cancio MI, Curran KJ, Jakubowski AA, Kernan NA, Kung AL, O'Reilly RJ, Papadopoulos EB, Prockop S, van Roessel I, Scaradavou A, Shaffer BC, Shah G, Spitzer B, Tamari R, Giralt SA, Perales MA, Boelens JJ.

Antithymocyte globulin exposure in CD34+ T-cell-depleted allogeneic hematopoietic cell transplantation.


Blood, 2022 Feb. : 6(3)1054-1063

PMCID:PMC8945304

Miltiadous O, Waters NR, Andrlova H, Dai A, Nguyen CL, Burgos da Silva M, Lindner S, Slingerland J, Giardina P, Clurman A, Armijo GK, Gomes AL, Lakkaraja M., Maslak PG, Scordo M, Shouval R, Staffas A, O'Reilly RJ, Taur Y, Prockop S, Boelens JJ, Giralt S, Perales MA, Devlin SM, Peled JU, Markey KA, van den Brink MRM

Early intestinal microbial features are associated with CD4 T cell recovery after allogeneic hematopoietic transplant.


Blood, 2022 Jan. : 139(18)2758-2769

PMCID:PMC9074404

Groth DJ, Lakkaraja M.M., Ferreira JO, Feuille EJ, Bassetti JA, Kaicker SM

Management of Chronic Immune Thrombocytopenia and Presumed Autoimmune Hepatitis in a Child with IKAROS Haploinsufficiency


J Clin Immunol., 2020 April : 40(4)653-657

Jin JC, Lakkaraja M.M., Ferd P, Manotas K, Gabor J, Wissert M, Berkowitz RL, McFarland JG, Bussel JB.

Maternal sensitization occurs before delivery in severe cases of fetal alloimmune thrombocytopenia.


American journal of hematology, 2019 May : 94(8)E213-E215

Lakkaraja M., Berkowitz RL, Vinograd CA, et al

Omission of fetal sampling in treatment of subsequent pregnancies in fetal-neonatal alloimmune thrombocytopenia.


American journal of obstetrics and gynecology, 2016 Oct. : 215(4)471.e1-9

Lakkaraja M., Jin J, Manotas K, Vinograd C, Gabor J, Selegean J, Ferd P, Wissert M, Berkowitz RL, McFarland JG, Bussel JB.

Blood Type A Mothers are More Likely to Develop Anemia During Antenatal Intravenous Immunoglobulin Treatment of Fetal and Neonatal Alloimmune Thrombocytopenia


Transfusion, 2016 : 56(10)2449-2454

Other Publications

Liu ZJ, Bussel JB, Lakkaraja M, Ferrer-Marin F, Ghevaert C, Feldman HA, McFarland JG, Chavda C, Sola-Visner M

Suppression of in vitro megakaryopoiesis by maternal sera containing anti-HPA-1a antibodies.


26209661 Blood, 2015 Sep 3 : 126(10)1234-6

PMCID:PMC4559934

Viswanathan K, Swaminathan N, Viswanathan R, Lakkaraja M

Caregiver's Health Locus of Control and Medication Adherence in Sickle Cell Disease.


27282723 Journal of the National Medical Association, 2015 March : 107(3)51-5

Thrombopoietic agents: there is still much to learn.


24680422 Presse medicale (Paris, France : 1983), 2014 April : 43(4 Pt 2)e69-78
Overview
Board Certification(s)

Pediatrics


Medical/Professional School

Dartmouth College, Hanover, NH
KJ Somaiya Medical College, Mumbai

Residency

Brookdale University Hospital and Medical Center, Brooklyn, NY

Fellowship

Memorial Sloan-Kettering Cancer Center, New York, NY
Texas Children's Hospital, Houston, TX

Clinical Interests

Bone Marrow Transplantation and Cellular Therapies for non-malignant disorders, high risk leukemias.