Nursing at Seattle Children's
Healthy Work Environment for Nurses
We advocate for the well-being of the mind, body and spirit for ourselves, our colleagues and our patients and families, both at the point of care and in the broader community, by creating healthy, caring environments. Relationships with multidisciplinary colleagues are collaborative and supportive.
Engaging Nurses at Work
We aim to recruit and retain the best nurses and create a healthy work environment by fully engaging our nursing staff. Our nurses participate annually in developing and evaluating our nursing staffing plan to ensure we are able to meet individual patient needs. We believe that nurses are more committed when they experience a greater sense of autonomy and control over their work environment.
We maximize opportunities for nurses to practice at the top of their license and competency. Our safety culture includes reducing staff injuries as well as safeguarding our patients. We ensure nurses have the support they need when faced with adversity.
Recognized As a Great Place to Work
Our positive work environment has been recognized by a variety of third parties. Read more about them on our Awards and Honors page.
Recruiting and Retaining the Best Nurses
To reach our goal of being a global leader in pediatric nursing, we are committed to recruiting and retaining the best nurses.
To help you flourish, you'll have opportunities to learn and grow in an innovative environment. Through our shared governance framework, you'll help shape nursing practice at Seattle Children's. We'll support you with comprehensive benefits, including work-life balance, wellness programs and other employee care programs.
If you are interested in working at Seattle Children's, email our nurse recruiters or call them at 206-987-2112 or 800-874-6691 (toll-free). Our recruiters try to return all calls and email messages within one business day. If you do not receive a timely return call, please do not hesitate to call back.
Our Professional Practice Model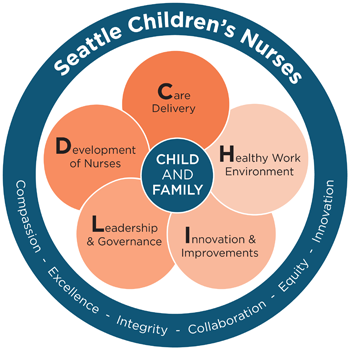 Our professional practice model, using the acronym CHILD, has five focal points: