Nursing at Seattle Children's
Professional Development of Nurses
We are dedicated to the advancement of pediatric nursing practice through the development of every nurse, from nursing students to executive nursing leaders.
More than 80% of Seattle Children's clinical nurses hold a bachelor's or higher degree. We have greater than 300 advanced practice providers who work in critical care, ambulatory and inpatient settings.
Increasing Nurse Certification
More than half of our 1,800 registered nurses hold national certification in their specialty. Our strategic plan calls for us to increase the percentage of our nurses with certification because it is linked to better patient safety, commitment to nursing practice and higher patient satisfaction.
Seattle Children's supports direct care nurses in their pursuit of national certification in two important ways:
Organizing study groups to prepare for certification
Paying a salary premium for approved national certifications
Continuing Nursing Education
We support internal and external learning opportunities, including participation in professional associations, continuing education, community activities, and pursuit of advance degrees. We continually improve the instruction and curriculum for our orientation, training, and annual competency programs. We base our staff development programs on solid evidence of what works. To encourage our nursing staff to grow and learn, we provide financial support for continued nursing education.
Seattle Children's is an approved provider of Continuing Nursing Education. Course offerings range from nursing science to cultural diversity to direct patient care such as monitoring equipment and advanced life support.
Our Simulation Program
Our Simulation Program brings hands-on, team-building training precisely to where it's needed–the site of care. Training caregivers in their worksites heightens participants' cognitive and kinetic learning while testing the institutional systems, policies and procedures that shape their work.
Nurses take part in interdisciplinary simulation teams for critical patient care events, process flows, nursing orientation and facility design and training.
Increasing knowledge among our staff and community nurses
We are committed to increasing pediatric nursing knowledge and adoption of best practices among our own staff and throughout the region. Our outreach efforts include:
Nursing Grand Rounds: Monthly presentations by experts who share nursing best practice and clinical expertise, including an opportunity for audience questions
Pediatric Advanced Life Support (PALS) Training Center: An American Heart Association (AHA)–designated PALS Training Center that trains healthcare providers in the skills for assessment and management of infants and children with conditions of respiratory distress and failure, shock and cardiac rhythm disturbances
Programs and conferences: A continually curated list of high-quality pediatric continuing education for healthcare professionals throughout the WAMI region (Washington, Alaska, Montana, and Idaho)
Learn more about continuing education support, differential pay for certification and other benefits for our nurses.
Supporting New Graduate Nurses
At Seattle Children's, our goal is to provide expert care for our patients and a healthy and safe work environment for our staff. For new graduate nurses, we create opportunities for continual growth as they begin their nursing career. The Nurse Residency Program is one of those opportunities: a one-year program that prepares each new graduate for their role as a pediatric nurse.
Precepting Nursing Students
We are an academic training center for healthcare professionals in nearly every discipline. Undergraduate nursing students come to us primarily from the University of Washington, Seattle University, Seattle Pacific University, Northwest University and Bellevue College. Throughout the year, senior students learn from experienced nurses during quarter-long rotations on acute care units including ED, ICU, Neonatal ICU, Cancer Care, Medical, Surgical, Post-Anesthesia Care Unit (PACU), OR, Ambulatory Care, Rehab and Float Pool.
We also host graduate nursing students in master's, doctorate of nursing practice, advanced practice provider and PhD programs to complete clinical and academic projects.
Summer Nurse Camp
Each summer a group of high school students (11th–12th grade) interested in nursing as a potential career arrive at Seattle Children's for three days. They are welcomed by the chief nursing officer and the nursing recruitment team. Over the course of the three days, they shadow clinical nurses and tour the operating room and the emergency department. Students are introduced to nursing skills to gain experience about the profession of nursing.
One of the highlights of Nurse Camp is meeting a clinical nurse who was once a camper. This allows campers to see how their dreams of becoming a nurse can come true. During camp, Seattle Children's nurses share what the nursing role entails and why nursing is a great career.
Our Professional Practice Model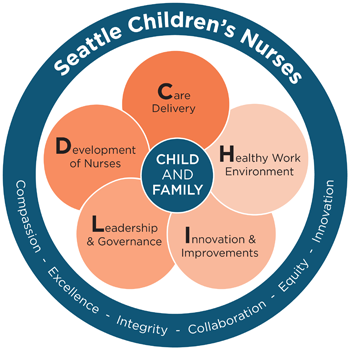 Our professional practice model, using the acronym CHILD, has five focal points: