About the Nurse Residency Program
At Seattle Children's, our goal is to provide expert care for our patients and a healthy and safe work environment for our staff. For new graduate nurses, we create opportunities for continual growth as they begin their nursing career. The Nurse Residency Program is one of those opportunities: a one-year program that prepares each new graduate for their role as a pediatric nurse.
Seattle Children's Nurse Residency Program strives to:
Build competency in the application of pediatric nursing knowledge, skills, abilities, and behaviors at Seattle Children's.
Support professional well-being throughout the transition into pediatric nursing practice.
Promote professional development, an ongoing spirit of clinical inquiry and integration of evidence-based practice.
Foster peer collaboration, interdisciplinary teamwork and organizational connection.
As a new graduate nurse at Seattle Children's, your transition into nursing practice will include:

Pediatric curriculum that includes various learning modalities
Patient care orientation with a nurse preceptor
Ongoing support by Nurse Residency educator
Mentorship by an experienced nurse
Participation in an evidence-based project under the guidance of a experienced nurse leader
Evaluation of new graduate nurse competency

To be eligible for the program, candidates must:

Have less than one year of RN experience at the start of the RN Residency cohort.
Earn a bachelor's of science in nursing (BSN) or higher from an accredited nursing program, or earn an associate's degree in nursing (ADN) from an accredited nursing program.
Obtain a Washington State registered nurse (RN) license prior to the start date of the cohort.
Complete Basic Life Support (BLS) certification prior to start date of the cohort.

We prioritize hiring new graduate nurses with:

Pediatric inpatient acute care and hospital-based clinical rotations where the applicant planned and provided direct patient care.
Work experience in a pediatric acute care setting or a senior student experience in a pediatric acute care setting. For nurse residents interested in the emergency department, intensive care units or the acute care float pool, we prefer work or senior student experience in the following settings: pediatric intensive care units, pediatric emergency departments, adult intensive care units or adult emergency departments.
A desire to work in an environment that respects diversity and inclusiveness in an approach to individualized care.

Residency opportunities are available in several clinical areas, including:

Operating Room (OR): The OR hires new graduate RNs into the consortium. For more information, please email Grace Hansmeier.

Please review the job posting to learn which units are hiring for a cohort.

The one-year program begins with a combination of in-class learning experiences and patient care orientation on the units. Classes will continue after the nurse resident transitions to independent practice.

RN Residency cohorts occur in February, May, August, and November. Please see the Applying section of our Frequently Asked Questions for dates of upcoming cohorts.

We are looking for energetic, passionate nurses that have a desire to care for children, prioritize patient safety in their care and embrace the diversity of our patients, families and staff. Commitments by nurse residents include:

Working their hired FTE, which includes scheduled evenings, nights, weekends and holidays
Flexibility in scheduling with patient care shifts and classes
The first few months of hire are demanding as nurse residents must balance nurse residency classes, unit-based orientation classes and patient care shifts. Nurse residents may work several days in a row with only a few days off in-between their workdays.
Planning time off around residency classes.

There is one job posting for each RN residency cohort.

The job posting will be posted approximately 14–15 weeks prior to the start of each cohort.

Applicants may apply for multiple units through the one job posting. Applicants will choose to apply for either critical care or acute care/ambulatory clinic jobs.

During the application process, you will also have the opportunity to indicate with which critical or acute care/ambulatory clinic areas you are interested in interviewing.

Applicants may apply for new positions prior to taking their NCLEX.
Questions
Learn more about the Nurse Residency Program by reading our frequently asked questions.
For additional questions, email the Nurse Residency Program.
Accreditation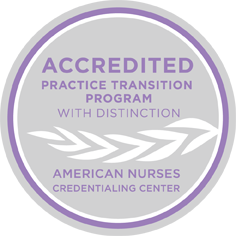 Seattle Children's RN Residency Program is accredited with distinction as a Practice Transition Program by the American Nurses Credentialing Center's Commission on Accreditation in Practice Transition Programs.
The current workplace settings included in this accreditation with distinction designation are: Acute Care Float Pool, Cancer and Blood Disorders Center - Inpatient, Cardiac Intensive Care Unit, Emergency Department, Medical Unit, Neonatal Intensive Care Unit, Operating Room, Pediatric Intensive Care Unit, Post Anesthesia Care Unit, Psychiatric and Behavioral Medicine Unit, Rehabilitation Unit, and Surgical Unit.