Nursing at Seattle Children's
Nursing Leadership and Governance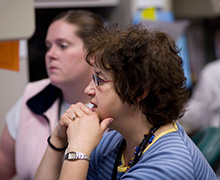 Developing strong leaders – both in clinical nurse and management roles – is integral to achieving our goal of being global leaders in pediatric nursing.
Through shared governance, our nurses collaborate with management on decisions that affect nursing care.
Seattle Children's supports leadership development of all nurses in all roles, in keeping with recommendations from the 2010 Institute of Medicine report The Future of Nursing: Leading Change, Advancing Health.
Clinical nurses who are interested in increasing their knowledge, skills and scope of responsibility have a number of opportunities. Among them are:
Clinical educators who coordinate educational opportunities for staff on inpatient units
Charge nurses who coordinate unit activities as designated shift leaders
Clinical practice managers whose role may include Continuous Performance Improvement (CPI) activities and scheduling, hiring and evaluating staff
Care coordinators working with specific patient populations from admission through discharge
Nurses who want to pursue careers as executive or clinical nursing leaders may choose to acquire graduate education and transition into other roles within the organization, including:
Clinical nurse specialists who provide consultation, clinical expertise and leadership that focus on nursing practice competencies and professional development
Nurse practitioners with primary responsibility for clinical management of patients in a specialty area
Clinical directors who manage and evaluate all services in a department on a 24/7 basis
Shared Governance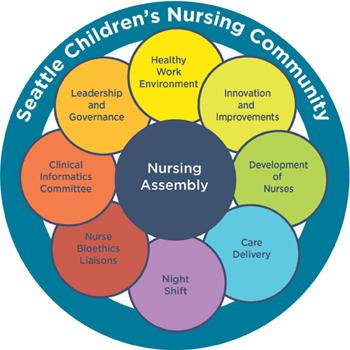 We are committed to nursing shared governance because we believe that nurses closest to the patient, providing direct patient care, are in the best position to make decisions related to nursing practice.
Shared governance provides a framework whereby staff and management collaborate to develop and improve nursing care practices and create an environment of mutual trust and respect.
Seattle Children's brings decision-making authority to the point of care through our four unit-based councils and nine house-wide councils:
Nursing Assembly: central body for council structure

Unit-based councils

Healthy Work Environment
Development of Nurses
Care Delivery
Leadership and Governance

House-wide councils

Healthy Work Environment
Development of Nurses
Care Delivery
Leadership and Governance
Night Shift Council
Innovation and Improvement
Nursing–Bioethics Liaisons
Clinical Informatics Committee

Our Professional Practice Model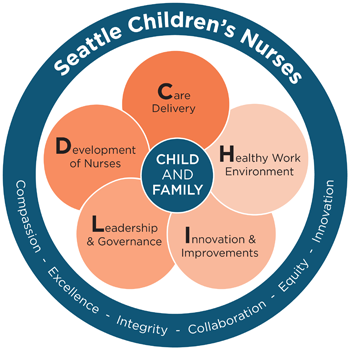 Our professional practice model, using the acronym CHILD, has five focal points:
Leadership and governance