Nursing at Seattle Children's
Nursing Innovations and Improvements
As a premier research and teaching facility, Seattle Children's offers nurses the opportunity to work with outstanding faculty and the latest – often newly emerging – therapies, treatments and technologies.
To improve our care and generate new knowledge, we use Continuous Improvement and Innovation (CII) methods, apply evidence-based practices (EBP) at the bedside and provide genuine opportunities for nurses to lead research that leads to important improvements in care.
Continuous Improvement and Innovation (CII)
Seattle Children's is committed to using Continuous Improvement and Innovation (CII) to provide the best care for our patients and families. We continuously improve our nursing processes using lean methodologies to deliver the highest value while removing wasteful practices.
Nurses lead, and are involved in, successful CII initiatives in all areas at Seattle Children's. We are supported by a robust CII department that provides us with tools and resources to deliver the best healthcare to patients and families.
Evidence-Based Nursing Practice
Nursing practice here is evidence-based. Our shared governance framework includes Evidence-Based Practice (EBP) Councils where nurses receive support for reviewing existing evidence or developing projects to identify best practices for pediatric nursing.
We provide innovative opportunities for nurses to become experts in the evidence-based process, such as through our EBP fellowship program. EBP projects have focused on topics as diverse as chlorhexidine-based central line dressings, temporal artery thermometers (TAT) and delirium in ICU patients.
Nursing Research
The Center for Pediatric Nursing Research provides resources for nurses in every position to lead and participate in research so they can contribute to new knowledge. We provide support for protocol development, Institutional Review Board approval, grant applications, statistical analysis and dissemination of findings through presentations and publication.
Nurse researchers have delved into a wide range of projects, including how patients and parents experience a child's pain; health literacy and diabetes health outcomes; medication-dosage calculations; and the impact of iron therapy on restless leg syndrome.
Learn more about nursing research at Seattle Children's.
Our Professional Practice Model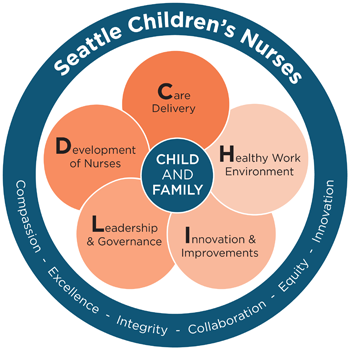 Our professional practice model, using the acronym CHILD, has five focal points:
Innovations and improvements