About Seattle Children's
Sustainability Program
Our Sustainability Mission
People: We are committed to improving the health and well-being of our patients, families, workforce and our local and global community.
Planet: We will work to promote a healthy environment to further our mission to provide hope, care and cures to help every child live the healthiest and most fulfilling life possible.
Promise: We will support our promise to care for every child who needs us – regardless of their family's ability to pay – by implementing sustainable practices that enhance patient care, reduce costs and minimize our environmental footprint.
Leadership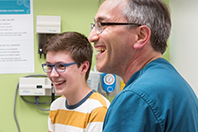 Seattle Children's has long been a leader and a believer in healthy environments for children and families. We are aware of the environmental impacts of our operations and have built a program to minimize that impact. Seattle Children's is proud of the sustainability work we have already accomplished in many areas such as recycling, composting, alternative transportation and green building.
We have been awarded the Practice Greenhealth Top 25 in Environmental Excellence, their highest honor, every year since 2015. In 2017, Seattle Children's became the first hospital in the U.S. to receive Salmon Safe certification for our campus in northeast Seattle. We want to build on this strong foundation, and we want to do more.
Current Initiatives
Healthier Hospitals is a national campaign to improve environmental health and sustainability in the healthcare sector. Seattle Children's has committed to all six priority challenges: engaged leadership, healthier food, leaner energy, less waste, safer chemicals and smarter purchasing. This initiative has helped frame how we address everything from purchasing interior furniture without harmful chemicals to sourcing local and sustainable food for our patients, families and staff.

Seattle Children's is operational 24 hours per day, 365 days per year. We use a lot of energy to heat and cool our buildings, light our office areas and support our clinical programs and patient care. Our operations keep our patients, families and staff safe and comfortable.

Our electricity is provided to our Laurelhurst campus by a carbon-neutral local utility, Seattle City Light, fueled by regional hydropower. But our use of natural gas comprised 43% of our 2019 greenhouse gas emission inventory. These emissions contribute to climate change, and children are one of the most vulnerable populations to the effects of climate change.

We have a strategic plan to reduce our energy use by 3% annually, per square foot, from a 2013 baseline. Reducing energy started with conservation, and has extended to a multi-year plan to upgrade our mechanical systems in the older parts of our campus. As of December 2019, we are short of our goal, but have reduced our energy use per square foot by 15%, aided by our new and more efficient Building Hope (2013 expansion). In 2016 we hired a Certified Energy Manager to manage our buildings efficiently to help ensure we reach our goals.

Healthcare organizations across the country are creating high-performance buildings that deliver healing environments for their patients. The task is to use less resources to create these spaces, and ensure that these buildings are as efficient as possible. Seattle Children's has been a leader in sustainable green buildings.

Seattle Children's Federal Way, completed in 2015, was a re-use project of an old retail store, a wonderful way to reduce construction resources.

Our newest main campus building, Forest A, opened in 2013. It is LEED® Gold Certified, a rigorous green building certification system from the U.S. Green Building Council. This building was designed and built with patient comfort and energy and water efficiency as high priorities. We installed low-flow plumbing fixtures, high-efficiency heating and plentiful windows in patient rooms for natural light. To optimize indoor air quality, we increased ventilation and used paints, adhesives and flooring with low volatile organic compounds. Our interiors were finished with regional materials, Forest Stewardship–certified wood and wood products with no added urea-formaldehyde. We surrounded this building with native and drought-tolerant landscaping and high-efficiency irrigation. There is a beautiful rooftop garden so all patients and families have a healing place of respite. We were able to divert more than 90% of our construction waste from the landfill on this project.

In 2010 we built our LEED® Gold Certified Bellevue Clinic and Surgery Center to serve our patients and families in East King County.

Clean fresh water is not an unlimited resource. Our hospital operations provide multiple opportunities for water reduction.

As we renovate older spaces, we are adding high-efficiency plumbing fixtures.

We have a large and beautifully landscaped campus, which requires irrigation water in the dry summer months to stay healthy. We have installed native and drought-tolerant plants, shrubs and trees to decrease the amount of water needed and we are in the second phase of upgrading to the highest-efficiency irrigation equipment for our main campus. These efforts have yielded a savings of a million gallons of water per year.

Landfills are sources of methane, a powerful greenhouse gas that is harmful to the environment. Healthcare must do all it can to divert as much waste as possible to avoid adding to this burden.

Seattle Children's has an extensive recycling operation, for everything from batteries and light bulbs to paper and plastic. In 2014 we refreshed our program, and pushed to recycle even more plastics and packaging in our clean clinical areas and operating rooms. These items are now recycled and diverted from the landfill.

For food waste, we have a robust composting operation in our kitchen, and are expanding that program to our staff kitchens throughout the hospital. Currently we divert 44% of our total waste from the landfill and have a goal of 50% diversion by 2025.

Hospitals purchase a vast amount of products, so targeting environmentally preferable materials can have a big impact. Even in the digital age, hospitals remain paper-intensive. It takes thousands of trees and millions of gallons of water to make our paper, and the manufacturing process produces greenhouse gases and air-polluting particles. It is these fine particles that contribute to respiratory issues.

Asthma and asthma-related issues are the most common reasons for admission to Seattle Children's. In January 2014, we began purchasing 30% recycled-content paper. While this helps us reduce our impact, we realize to have the greatest effect we need to decrease our paper usage. Since 2014, we have decreased our annual usage by more than 20%, despite hospital growth. We plan to continue this progress, and our whole organization contributes to this goal.

Furniture can have a range of toxic chemicals included in the manufacturing process. As part of our work in the Healthier Hospitals, Healthy Interiors challenge, we currently source 72% of our furniture free of harmful chemicals. Our goal is to achieve 80% by 2025.

Our green purchasing program continues to expand, and we are committed to our true north: to source materials that are environmentally preferable to protect the health of our children, families and staff.

The mission of our Nutrition Department is "Nourishing our community to thrive… each and every life." From this foundation, Seattle Children's has instituted multiple initiatives:

Eliminated sugar-sweetened beverages from our hospital in 2012, due to the association with childhood obesity.
Increase our local and sustainable food purchasing by 15% annually. Current state: 20% local and 26% sustainable purchasing.
73% of the meat we serve is from animals raised without antibiotics. Our goal is 80%.
Our on-site organic garden provides more than 800 pounds of produce each year for our patient & café menus, and our onsite food pantry.
Our Forest kitchen offers a whole-foods menu to provide patients with the most nourishing foods for health and healing.
We continue to compost all food waste and have a robust recycling program in our kitchens.

Seattle Children's has more than 350 staff members who take our sustainability efforts to the next level. They formed a Green Team to both educate and disseminate our sustainability efforts to every department in the organization. The Green Team's mission statement says it all: "Seattle Children's Green Team will lead, educate, inspire and empower our workforce in safeguarding the health and preserving the resources of present and future generations. We endeavor to reduce both environmental impact and hospital costs through efficient, sustainable work practices."

According to the Environmental Protection Agency, the transportation sector is responsible for 27% of the greenhouse gas emissions in the United States. This is just slightly below the emissions caused by coal-burning power plants. As hospitals tend to be one of the largest employers in the community in which they are located, we feel a responsibility to decrease this environmental load.

Seattle Children's has a nationally-recognized employee transportation program and is the only hospital in the country that has received a platinum-level Bicycle Friendly Business Award. Over the last two decades, Seattle Children's has reduced the percent of employee drive-alone commute trips by more than half – from 73% in 1995 to 32.5% in 2017– and has a goal of just 30% by 2030. Reducing vehicle trips supports Seattle Children's triple aim of providing value to our employees; reducing organizational expense associated with parking vehicles; and improving air quality, which supports the health of the children we serve.

Highlights of Seattle Children's employee transportation program include:

Deeply discounted unlimited ORCA transit pass
A daily commute bonus on days staff do not drive alone
Free, premium vanpool parking
Free use of a bike for employees who commit to biking to work twice a week
Two free annual bicycle tune-ups On-site, full-service bike shop, offering discounts on bicycles, gear and accessories
Pay-per-use parking rates that differ by location and time of day
Contact Information
If you would like more information about Seattle Children's sustainability initiatives, please email Colleen Groll, manager of Sustainability Programs.