Stories
Matters of the Mind
A transformative gift is creating a new home for the Autism Center – and sparking a broader vision for behavioral health.
Published in Connection magazine, Spring 2020
Bill and Alyssa Sunderland started getting glimpses of autism spectrum disorder when Gareth, their middle child, was less than a year old.
"First we noticed that when Gareth gained a new word, he'd lose a word he'd been using," explains Alyssa Sunderland. "As time went on, he only lost words and didn't add any new ones. Eventually, we stopped hearing his sweet voice altogether, which has been the hardest thing of all."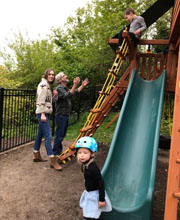 The impact of philanthropy
Today, Gareth is 8 and the Sunderlands know the challenges of life with a child on the autism spectrum. Their story is all too common, since one in every 59 children now receives an autism diagnosis. As the number of children with autism continues to climb, the gaps in care keep widening. Right now, Seattle Children's Autism Center receives more than 100 referrals each month – and that's on top of several thousand families already waiting up to a year for a diagnostic evaluation.
Yet the Sunderlands feel luckier than most. While the average age for an autism diagnosis in the U.S. is between 4 and 5 years old, Gareth started early intervention at 15 months and received a diagnosis at age 2. Now the couple wants children with autism in our region to have the same opportunities as their son. "We want more kids to have access to better screening, quicker diagnoses, earlier interventions and more opportunities to contribute to research that will advance care," says Bill Sunderland.
A $20 million capital gift from the Sunderland Foundation (of which Bill Sunderland is a trustee) will move Seattle Children's Autism Center about two miles north of the main hospital campus. The new space will accommodate more access for appointments and feature greater emphasis on early intervention that can make a big difference in the developmental arc of a child's life.
A bigger vision
The jewel of the Sunderland Foundation's gift, the largest philanthropic donation ever to support autism spectrum disorder in our region, will be a thoughtful design in harmony with the unique needs of children and teens who come to the center. "We plan to feature lots of elements throughout the new space that are calming for kids who can be easily overwhelmed and overstimulated in typical clinic settings," explains Dr. Mendy Minjarez, interim executive director of the Autism Center.
Eventually the team at the new center will be able to provide group therapy sessions, add more educational programming and offer families greater participation in critical research. Minjarez is intent on acquiring web-based training technologies with the aim of teaching more community providers to diagnose autism – a strategy focused on shortening the center's waitlist for diagnostic evaluations. She also envisions video teleconferencing equipment in every office to encourage telehealth appointments and limit driving for out-of-town families.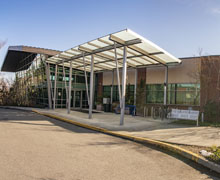 The location (at NE 70th and Sand Point Way NE) and design of the Autism Center is also a jumping-off point for a broader vision: co-locating outpatient behavioral health services in the same building to be a hub for clinical excellence, innovation and community.
"By removing the physical and logistical barriers of being in two separate places, our autism and behavioral health providers and trainees will be able to co-lead programming and offer timely patient consults. This single hub for services will foster richer clinical, outreach, training and research collaborations," says Minjarez. "Securing funding for this bigger vision will be a giant step toward delivering integrated care in a community setting without the stigma that's currently attached to receiving outpatient mental health services at the hospital. Our children and families deserve the best care in the right environment when they need it most."