Stories
Helping Kids From All Backgrounds Thrive
We look at the whole picture – medical and nonmedical – to help kids from low-income and ethnically diverse families thrive.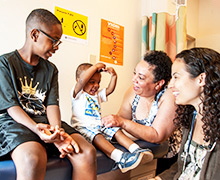 At the height of the civil rights era, Odessa Brown was raising her four children in Seattle's Central District and working as a community organizer to bring quality healthcare with dignity and respect to minority children living in poverty. For her, the cause was personal: years earlier in Chicago, she'd been refused medical care repeatedly because she was black and poor. Though Brown helped secure federal funding to build a children's clinic in her own Seattle neighborhood, she didn't live long enough to see her dream realized. She died of leukemia in 1969 at age 49 – less than a year before the facility opened.
Today, the clinic Brown fought for – and that was named in her honor – is an innovator of wellness practices where medical, dental, mental health and nutrition teams come together under one roof. The approach provides an umbrella of care for kids whose daily struggles with poverty threaten to worsen their health and alter the arc of their lives.
The early seeds of illness
Seattle Children's Odessa Brown Children's Clinic (OBCC) serves nearly 15,000 children each year. The majority live in low-income areas of south Seattle and south King County where kids have two to five times the risk of asthma, mental health and behavior concerns, dental disease and obesity. About 80% are on Medicaid. Almost 20% speak another language (primarily Spanish) at home. Nearly 10% are immigrants from East Africa.
Revenues cover less than half of the cost of the services OBCC provides.


The idea that a child's social, mental and family health is always connected to their physical health is a guiding principle at OBCC. Clinicians look at the nonmedical aspects of good health – nutritious food, safe and nontoxic places to live and play, stable family life, educational opportunities, affordable transportation and available social services – and factor them into each child's report card of wellness.
"We have a philosophy of what we call 'moving upstream'," explains Dr. Ben Danielson, OBCC medical director, a tireless advocate for the underserved and 16-year veteran of the clinic. "As a primary care clinic we have a unique opportunity to identify the early seeds of health problems and intervene at that level – which sometimes means dealing with issues that aren't medical at all."
Marva Harris, primary caregiver for two active grandsons, says this approach is the reason her boys are thriving.
"My grandsons were raised for periods of time in homes where they witnessed domestic violence and drug and alcohol abuse," explains Harris, who works as a middle school security officer and has little time to schedule and attend clinic appointments. "The situations created high anxiety for my older grandson with ADHD and made my younger grandson's severe food allergies even worse.
"Jonah and Jeremiah's doctors take the time to find out what's going on in their lives, not just in their bodies," says Harris. "The clinic is a one-stop shop and they are there for us no matter what we need."
Health beyond the system
Danielson admires the children and families he serves, describing their lives as a combination of resilience and struggle. His team works hard to develop services that address challenges families face while appealing to the rich cultural mix of those who frequent the clinic.
"We're passionate about breaking down real-life barriers that seem insurmountable by developing programs that improve the whole life of a child – whether that's introducing kids and parents to a local farmer's market and teaching them how to cook with food from the garden, making sure a child has warm winter outerwear to go to school or helping a mom bond with her colicky baby," he explains.
OBCC also extends care outside its walls, running health clinics in three local schools and a daycare, using legal aid to ensure that landlords clean up toxic housing, making house calls to help families secure basic needs and organizing community dental screenings for toddlers.
"Someone once told me it's extremely important to care about the kids you don't see coming through your door as much as you care about the kids you do see come through you door," says Danielson. "We've taken that advice to heart."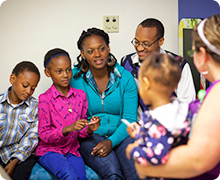 Resource for foster kids
When a foster care social worker brought Isaac to Sprout Hochberg's home on a Friday evening, he had two garbage bags full of clothes that didn't fit, a too-big car seat and one stuffed animal. Hochberg called her family physician to schedule a checkup for the tiny 4-year-old, but the doctor turned them away because she already had her quota of patients on Medicaid.
"I'd heard about Odessa Brown, so the clinic was my next call," remembers Hochberg. "Isaac needed to be seen right away because he was clearly underweight. The first thing they said was, 'How does Wednesday work for you?' We've been going there ever since."
"Many children placed in foster care experience multiple traumatic events," says Mark Fadool, clinical director of OBCC Mental Health Services. "Our work is to help make sure these painful memories don't negatively affect the rest of their lives. By using proven practices based on clinical evidence, we teach our foster kids skills to take control of past demons and create bright futures."
Hochberg's home was Isaac's seventh and final foster placement. When he was 5, she adopted him. "The front desk staff cheered when I brought in his new birth certificate," she says. "We feel so validated there. It's a place that reflects the diversity of our family. We fit in."

A medical home
OBCC serves 700 kids with significant special healthcare needs, which is an impressive caseload for a community clinic. More than 20% have sickle cell disease – a condition that mainly affects children of African descent.
"Sickle cell is a serious, lifelong condition that requires constant monitoring and specialized care," explains Danielson. "We work in partnership with the state's newborn screening lab to begin treatment immediately after a baby is diagnosed, so we can prevent complications early-on and help kids stay healthier as they grow."
Two of Foxy and Jason Davison's three kids have sickle cell disease. More than once, Foxy has grabbed her shoes, scooped up a sick child and hurried to the clinic for help with the fever and debilitating pain, which can be treated and managed but not cured.
"Odessa is an extension of our family and a crucial resource for so many families like ours," says Davison. "Having a child with a chronic condition requires working in concert with several providers. We're always treated like we're part of the medical team."
Davison credits the way OBCC coordinates her children's care – streamlining multiple appointments, setting up tests that have to be done at Seattle Children's, managing medications and providing plenty of education and support – as the reason they've avoided frequent trips to the ER. For the few hospital stays they've had, there's a genuine continuity of care because clinic doctors also see patients on the hospital's inpatient floors.
"We can't imagine our lives without Odessa Brown."
Published in Connection magazine, Winter 2016