Stories
Guild Members' Passion Boost Programs for Patients
Fundraising guilds boost Seattle Children's bottom line through fun, friendships and feel-good events.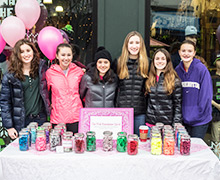 In July 1907, just six months after Seattle Children's opened its doors, trustees began organizing neighborhood groups or "guilds" to help support the new hospital. At first, they made essential items like bedsheets and donated produce to the hospital pantry.

Over the decades, this tradition of community giving through guilds has grown into the largest all-volunteer fundraising network (about 6,200 members) of any hospital in the nation. Some guilds donate handmade items like quilts to comfort kids or provide necessities to families burdened by a child's hospital stay. Others raise muchneeded funds for facilities, research, specific clinical areas or patient support services not covered by insurance. But most focus on assisting families who can't pay some or all of their medical bills – the very heart of Seattle Children's founding promise.
Currently, 450 guilds grace Seattle Children's with their creative efforts, from car racing to wine tasting. They are limited only by their imaginations when dreaming up ideas that will attract a paying crowd. In 2015, guilds brought in a total of $13 – and guild members account for 20% of all philanthropic funds received by Seattle Children's.
Guilds form for a variety of reasons, but all share a passion for improving the health and well-being of children and their families. Here, we highlight a few guilds in our community and share what inspires them to make a real difference for Seattle Children's.
Savvy salesgirls
The Pink Bandanas Junior Guild formed two years after a Girl Scout troop lost their 9-year-old friend and member Sarah Mary Hughes to a brain tumor. They decided to earn their community service badge by raising money and awareness for pediatric brain tumor research at Seattle Children's. "We want to make a difference with this cause so other kids won't have to go through what Sarah went through," says guild member Grace Clarke, 15.
Lisa Crisera, one of the moms coordinating the hundreds of hours the girls spend each year producing and selling handmade ponytail holders and headbands, agrees. "Cancer is still the number one disease killer of children under 15," she explains. "With government funding for research shrinking, our guild's efforts are more important than ever. Families are counting on a cure for this horrible disease."
450: Number of volunteer guilds that fundraise for Seattle Children's
Since the Pink Bandanas' inception in 2012, they have raised an impressive $64,000. Their products are in half a dozen retail stores and sold online and at special events. One girl's idea to sell purple and gold elastics to tailgating Husky football fans reaped $1,000 in less than two hours.
Now ninth-graders, the 18 girls in the guild are more passionate than ever about fundraising for a cause. "They have such a sense of accomplishment, and they're so inspired by other kids with cancer," says Crisera. "I know this experience is setting them up for a lifetime of volunteering."
A family legacy
Nancy Senseney has Seattle Children's in her blood. Literally. Her great-grandmother, Anna Herr Clise, founded the hospital in 1907.
"I grew up in a family where volunteering for Children's was just part of everyday life," she says. "Some of my earliest memories were going door-todoor collecting pennies for the hospital and working at a huge garage sale called The Friendly Exchange."
Senseney started a guild in 1995 and named it after her aunt, Katherine Colwell (K.C.) Howard, who was an inspiring mentor, a granddaughter of Anna Clise, and a tireless fundraiser for the hospital for nearly 70 years.
"My great-grandmother started this hospital based on the concept of child health equity decades before that term existed, and my aunt was crystal clear about upholding Anna's promise that no child be turned away because of race, creed or family's ability to pay," says Senseney. "I am incredibly proud to continue their legacy."
Last year, the K.C. Howard Guild celebrated 20 years of organizing annual luncheons. The first raised $4,000; the 2015 event brought in $150,000.
The guild's 40 members have grown up together, raising their kids and honing their philanthropic skills. "There aren't many things you do in life for 20 years," reflects Senseney. "We don't even have to talk about it; we just know we'll be together for another 20!"
Precious connections


When Jackie Harvey moved to the Tri‑Cities in 2000, a mom in her PTA invited her to a meeting of the Jennifer Van Zuyen Guild. That invitation was the beginning of what she calls her "– her 23 best friends and their projects for hospitalized children.
The guild not only puts on a popular holiday fundraiser that nets nearly $32,000, they also make comfort items like blankets and dolls to ease the time kids spend in the hospital. Each year, Seattle Children's Hospital Guild Association asks guilds to participate in a special fundraising project and the Van Zuyen Guild always steps up. Last year, they collected $7,000 worth of Safeway gift cards for families.
"Everything we do, we do from the heart," says Harvey, who recently stepped down as guild president after 10 years. "When we finish a project, we're above the stars feeling like we've made a difference."
That difference started in 1986, five years after Marge Van Zuyen lost her 3-year-old daughter Jennifer to neuroblastoma, a rare cancer that develops in infancy. "Jennifer's pediatrician suspected she had cancer and told us to go to a hospital in the Tri-Cities, but we drove to Children's and pulled in at midnight," she remembers. "At that time we farmed and had no insurance. Children's picked up the cost of her care. We never got a bill."
Now in its 30th year, the guild helps Van Zuyen stay connected to the hospital. "Children's is family. I get a warm feeling knowing that it will always be there for other families in their time of greatest need."
Born of compassion
Shortly after joining Seattle Children's in 2006, orthopedic surgeon Dr. Klane White and his wife Amy unexpectedly found themselves living at the hospital for a year while their youngest daughter Susannah was treated for a rare, life-limiting disease. Sadly, Susannah died at age 9 without ever leaving the hospital.
"When you lose a child, there's a choice to stay connected to the hospital or fade away. For us, that wasn't an option," says Amy White. "We wanted to make a difference in the lives of families who would walk in our shoes in the future."
Susannah White's Three Feet of Sunshine Guild supports Seattle Children's Palliative Care Program, which provides palliative care to seriously ill and dying patients. Guild funds are used to create meaning and memories tailored to each family's needs, such as a Starbucks gift card for a sleepdeprived parent, a birthday party for a terminally ill child or the lasting gift of a silver fingerprint necklace.
Three Feet of Sunshine is unique because most of its members are hospital staff who cared for Susannah. Hundreds of community volunteers and a junior guild led by Susannah's big sister Madeline also lend support. Together, they have raised more than $120,000.
Last October, 600 costumed guests flocked to the guild's seventh annual Monster Bash to enjoy events like pony rides and a haunted house. "Monster Bash has been successful beyond imagination," says White, who calls the event a friend-raiser. "Our community comes together to make something really great for patients and families at Seattle Children's."
Join a guild or start one
"Guilds are all about friends," says Mateo Messina, a composer whose guild has put on concerts to raise money for Seattle Children's since 1998. "There's nothing super formal about it. If you're inspired to join a guild, or if you have an idea and it's in your heart to start a guild, just do it! You'll be amazed at how many people will get behind you."
To talk about how you can get involved, call Melissa Cardenas at 206‑987-6806 or email her.
"If you're inspired to join a guild, or if you have an idea and it's in your heart to start a guild, just do it!"
Published in Connection magazine, Spring 2016