Community Health and Benefit
Community Health Assessment (CHA)
Taking a Closer Look at the Health of Our Community
Caring for children is our passion, our commitment and our privilege at Seattle Children's. As the pediatric and adolescent medical center covering the Washington, Alaska, Montana and Idaho (WAMI) region, we believe all children – no matter where they live – should have equal access to high-quality healthcare services and the resources they need to live the safest, healthiest and most fulfilling lives possible.
Through our pediatric Community Health Assessment (CHA), we gain a better understanding of the health needs and strengths of communities across the WAMI region. We believe that by working in partnership with others – families, healthcare providers, government agencies and community-based organizations – our efforts will have ripple effects throughout the communities we serve.
2021/2022 Joint Community Health Needs Assessment
Together with the King County Hospitals for a Healthier Community (KCHHC) Seattle Children's published a Community Health Needs Assessment (CHNA). In this CHNA, 10 hospitals and health systems in King County joined forces to identify important health needs and assets in the communities we serve. The report contains data on the description of community, life expectancy and leading causes of death and chronic illness. A summary of the report can be found by clicking here. Additionally, the KCHHC co-authored a 2018/2019 CHNA LGBTQ Community Spotlight Report. The summary can be found here.
2019 Pediatric Community Health Assessment
We're proud to share our 2019 Community Health Assessment (PDF) and executive summary (PDF). This assessment uses epidemiological data as well as feedback from community stakeholders and families, to describe the health of children, teens and families throughout the WAMI region.
Key findings
Accessible mental and behavioral health services for children, teens and young adults continues to be an unmet need in many communities, especially for non–English speakers.
Over the last decade, rates of depression among youth have increased by as much as 30% across the WAMI region. Suicide rates have also been on the rise, with about 1 in 10 high schoolers reporting that they had attempted suicide.
Injuries, both unintentional and intentional, continue to hurt, harm and hospitalize children in the region. Motor vehicle collisions, drowning, and poisonings are some of the leading causes of unintentional injury.
Many families across the region struggle to afford healthy foods and other basic needs when faced with high housing, child care and healthcare costs. Living wages in some communities may not be keeping pace with these costs.
The majority of high school students are not meeting the daily physical activity recommendation and do not consume the recommended amount of fruits and vegetables each day.
Difficulties navigating the healthcare system and finding reliable and affordable transportation to get to and from appointments continue to be barriers to accessing care; as do shortages of local subspecialty services and long waitlists for available services.
Cigarette smoking rates among high school students continue to decline, but the rate of electronic vapor product use has stayed steady or increased across the WAMI region. Rates of alcohol, marijuana and other drug use vary across the region.
Coordinated care and communication between healthcare providers, schools and families is critical to good health. This is especially important for children and youth with special healthcare needs.
Health disparities are caused by inequities and exist across the region by race, ethnicity, gender, geography, socioeconomic status, environmental factors, health literacy and disability. To meet the diverse needs in our community, culturally relevant services are needed.
Read more about our spotlight on Mental and Behavioral Health (PDF).
Community Health Implementation Strategies
Our assessment is accompanied by our resulting Community Health Implementation Strategies (PDF) and executive summary (PDF) that lay out the concrete steps we are taking to respond to the needs identified and how to amplify all the wonderful community based factors already in place. Periodically, we will be publishing progress report dashboards on these strategies, so please check back for those. We have identified the following priority areas to work on throughout the WAMI region from 2020 to 2022: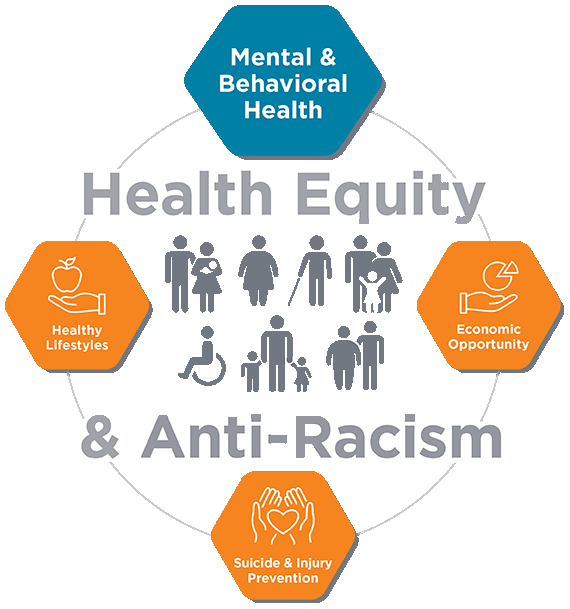 Primary community health implementation strategy
Mental and behavioral health
Secondary community health implementation strategies
Healthy lifestyles
Suicide and injury prevention
Economic security
Other sustaining community health implementation strategies
Access and care coordination
Adolescent health
Programs and services for children with special healthcare needs
Family education and resources
Contact Us
Please email our Community Health and Benefit team to learn more about our pediatric CHA or CHIS and how you or your organization can partner with Seattle Children's to improve the health and safety of children and families in the region.