Todd Cooper Appointed to Children's Oncology Group Committee Chair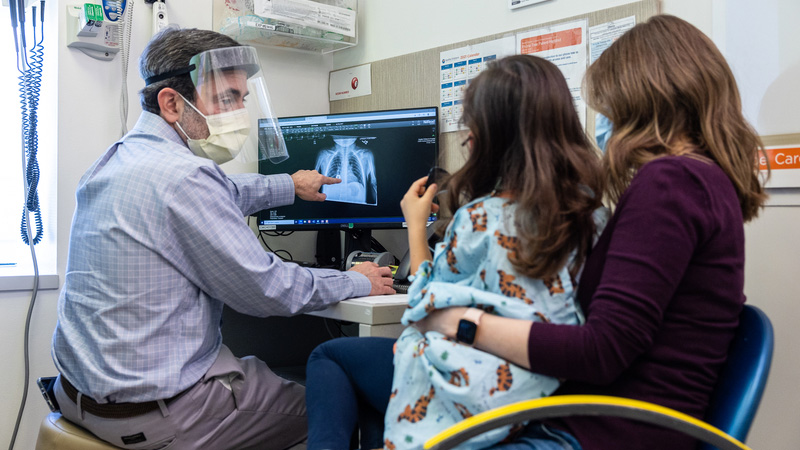 April 5, 2023
Dr. Todd Cooper, Oncology section chief and director of Seattle Children's Pediatric Leukemia/Lymphoma Program, as well as principal investigator in the Ben Towne Center for Childhood Cancer Research, has been appointed to chair the Children's Oncology Group (COG) Myeloid Committee, effective May 1.
The COG is the largest consortium of pediatric hospitals providing oncology services in the world. It unites more than 10,000 cancer experts at about 250 hospitals across North America, Australia and New Zealand.
Cooper, who is also a professor of pediatrics at the University of Washington School of Medicine and the Evans Family Endowed Chair in Pediatric Cancer, will be responsible for setting COG's vision and priorities for clinical/translational research and clinical care for pediatric and young adult malignancies, including acute myeloid leukemia (AML), acute myeloid leukemia of Down Syndrome (AML-DS), chronic myelogenous leukemia (CML) and other myeloproliferative neoplasms.
He will work with experts throughout COG institutions to develop and conduct blood cancer clinical trials and protocols, as well as working with other international AML consortia to ensure COG's clinical/translational priorities are synchronized and complementary.
With his appointment, Cooper joins ongoing COG leadership by Children's physician-researchers, including Dr. Mignon Loh, director of the Ben Towne Center for Childhood Cancer Research and chief of the Division of Pediatric Hematology, Oncology, Bone Marrow Transplant and Cellular Therapy, overseeing the Cancer and Blood Disorders Center at Seattle Children's, who chairs COG's Acute Lymphoblastic Leukemia Committee, and COG Group Chair Dr. Doug Hawkins, principal investigator in Ben Towne Center for Childhood Cancer Research.
"Seattle Children's is fortunate to have multiple talented physicians-researchers represented in COG leadership roles," said Dr. Jeff Sperring, Children's chief executive officer. "Dr. Cooper's appointment allows us to further the important work of delivering more hope, care and cures for pediatric cancer patients."
"This role provides Children's the opportunity to highlight the important contributions from Seattle-based translational and clinical researchers who are at the forefront of care for children with acute leukemia," Cooper said. "It further enhances the reputation of our High-Risk Leukemia Program and solidifies us as a leading center to which families and other physicians will look to for help and advice."
Among the many priorities Cooper plans to accomplish through his COG role, he aims to increase survival for children and young adults diagnosed with myeloid leukemias, improve quality of life for survivors of myeloid leukemias, develop novel targeted therapies and address inequities in care and in social determinants of health outcomes.
— Colleen Steelquist