Featured Research
Nursing Research Offers Unique Perspective in Treatments for Infants with Bronchiolitis
Bronchiolitis is one of the most common reasons for hospitalizations among children under two years of age. The respiratory syncytial virus (RSV) causes most bronchiolitis infections and is most prevalent in the winter months. The virus causes a lot of mucous and swelling, which results in a narrowing of the smallest airways in the lungs (bronchioles). The symptoms of bronchiolitis are like the common cold with runny nose, cough, and wheezing. However, in young children it can progress to a more severe illness, making it difficult for them to breathe and eat on their own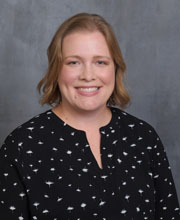 When a child is hospitalized with bronchiolitis, the treatment typically involves one of two suctioning methods to remove mucus from their nose. A nasal aspirator, or olive tip, may be inserted slightly into the baby's nose to suction out mucus, or a deeper suction can be accomplished by inserting a catheter in the nose and suctioning the nasal airway, called nasopharyngeal (NP) suctioning. All forms of suctioning may cause some temporary distress in the infant, nasal trauma, sleep disruption, and caregiver duress. The insertion of a catheter into the nasal pharynx in NP suctioning introduces the risk of temporary drops in oxygen levels, gagging, low heart rate, swelling, bleeding and trauma to the airway. While hospitalized, nurses and respiratory therapists will partner in suctioning patients with bronchiolitis every 1 to 4 hours through the day and overnight.
Nurses, respiratory therapists and physicians at Seattle Children's have frequently discussed which suction method provides the best results, but there was limited research indicating which was most effective. Previous research had looked at outcome measures such as hospital length of stay, but, medical unit nurses Coral Ringer and Rebecca (Becca) Enberg wanted to dive deeper and examine the impact of each suctioning method on a patient's breathing. They partnered with respiratory therapist Robert (Rob) DiBlasi to conduct first-of-its-kind research on previously healthy children with bronchiolitis admitted to the medical unit.
"Nurses and respiratory therapists work together daily in the care of children at Seattle Children's, says Coral. "To be able to collaborate with them in interdisciplinary research is really exciting and was possible because of funding received from a nursing research grant."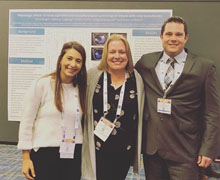 The team designed their research study to evaluate how the two suctioning methods impacted breathing. Each of the 16 research participants had their heart rate, breathing rate and blood gas levels (oxygen and carbon dioxide) monitored before, during and after each suction method. In addition, the team used a non-invasive device called an electrical impedance tomography (EIT) to gather information about how the lungs were inflating and lung volumes between nasal aspiration and nasopharyngeal suctioning in infants.
Their research findings, published in Respiratory Care Journal, indicated that there were no differences in the two suctioning techniques in their effect on the baby's heart rate, breathing frequency, gas exchange or lung volumes. They did, however, find that the catheter suctioning method (NP) removed 36% more mucus by weight than the olive tip method.
"Putting a catheter in a baby's nose can be a little more traumatic for babies, so clinicians may use these results to inform suctioning decisions moving forward," says Coral.
The research team presented the results of their study at the American Association of Respiratory Care Conference last fall and received the Jeri Eiserman, RRT Professional Education Research Fellowship Award.
For Coral, this won't be her last experience with research. "I'm super excited to be able to continue doing research," says Coral. "I think nurses can bring a unique perspective to research, and to be able to partner with the Respiratory Therapy Department is such a wonderful opportunity."
Coral is supported in her research by Seattle Children's Center for Pediatric Nursing Research and already has two additional studies in the works. She is collaborating with Lindsey Scheller, RN, on her study, Factors Predicting Deterioration in Bronchiolitis: A single-center, observational study. Coral, Rob, Becca and respiratory therapist Kellie Micheletti were also just awarded a nursing research grant for their study, Preventing the Spread of COVID 19: Evaluating the effectiveness of cloth masks in filtering small particles.