Our contribution to the pandemic response has been two-fold.
First, we are active in a VTEU partnership with Kaiser Permanente Washington helping to process samples from phase 1 through 3 clinical trials evaluating the safety, immunogenicity and surrogate efficacy of severe acute respiratory syndrome coronavirus-2 (SARS-CoV-2) vaccine candidates. Notably, we were the first site in 2020 to begin the Moderna Phase 1 candidate study. We have also developed several endpoint assays that are now clinically qualified to assess the magnitude and composition of vaccine- or infection-induced humoral responses as well as surrogate efficacy assays including pseudoneutralization and plaque reduction neutralizing titers (read our preprint). We are continuing to leverage our lab's clinical expertise to keep up with emerging variants of concern and evaluate novel vaccines and vaccine regimens.
Second, we are acutely interested in developing a co-infection model between Mycobacterium tuberculosis and SARS-CoV-2. SARS-CoV-2 infiltrates lung and airway epithelial cells leading to respiratory infection and pulmonary damage which poses a threat to those with chronic lung conditions such as tuberculosis (TB) caused by Mycobacterium tuberculosis (Mtb).
Our lab is investigating how co-infection with SARS-CoV-2 and TB affects Mtb bacterial burden and SARS-CoV-2 infection and disease progression.
This work will provide important information about the risk and effects SARS-CoV-2 infection poses for the millions of individuals with latent or active TB while also evaluating the efficacy of current mycobacterial immune therapies in the context of co-infection.
Variants of Concern (WHO)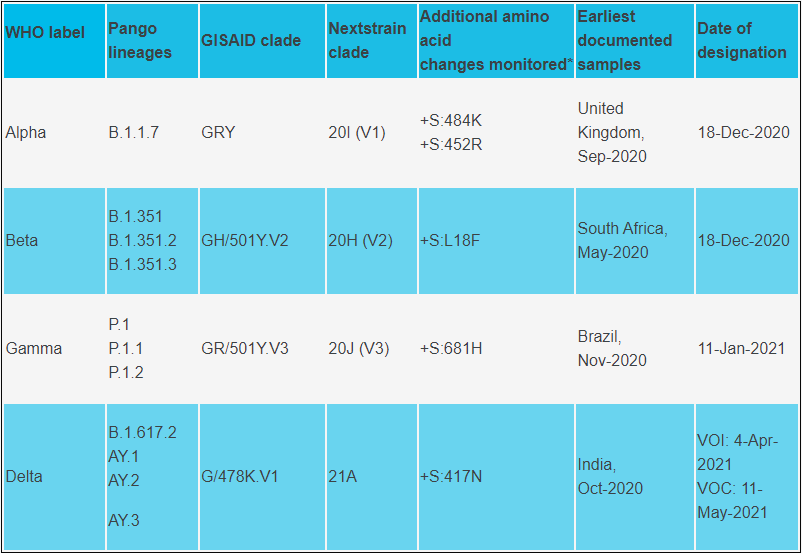 Variants of Interest (WHO)