Welcome to the Cunningham Lab
The Cunningham Lab investigates the mechanisms behind craniosynostosis and other malformations. Our goal is to make discoveries that lead to better care for patients with craniofacial conditions.
Unraveling the Causes of Craniosynostosis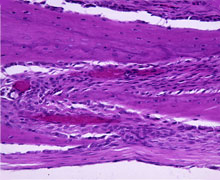 Histologic cross section of a rat coronal suture.
Craniosynostosis is a hereditary condition that occurs when the sutures, or seams, between a child's skull bones fuse too early. This stops the skull from expanding as the brain grows. Craniosynostosis can lead to an abnormally-shaped head, increased pressure inside the skull, facial malformations and other problems. Most children with craniosynostosis need extensive surgery.
Our craniosynostosis research focuses on understanding single-suture craniosynostosis (SSC), which occurs when only one suture is prematurely fused. This occurs in approximately one in 2,500 births.
Our research projects include:
Single-Suture Craniosynostosis Gene Expression and Discovery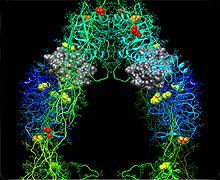 Protein model depicting the extracellular domain of IGF1R found to have three causative mutations (red residues) in single-suture craniosynostosis (modeling by Dr. Jeremy Horst).
We work with researchers in the University of Washington Department of Genome Sciences to identify mutations and altered genetic pathways that cause craniosynostosis. Using next-generation sequencing, gene expression studies and cell biology, our team is identifying molecular risks for developing SSC. This will enhance our ability to counsel patients and families, and holds great promise for identifying biological pathways that could be modified to treat and perhaps prevent craniosynostosis.
Read a detailed abstract from the NIH's RePORT website.
Neurobehavioral Correlates of Craniosynostosis
We collaborated with Dr. Matt Speltz on the first large study to track neurodevelopment in children with SSC from infancy until elementary school. While Children with SSC had higher rates of learning problems than children without SSC, those issues were usually mild enough that they could be treated with standard interventions like tutoring and special education. Our results could spur craniofacial programs to improve developmental screening for children with SSC.
Read the study's findings in the journal Pediatrics.
Identifying genes that cause rare craniofacial malformations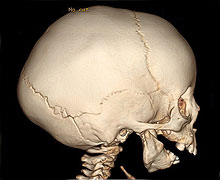 Clinical 3-D CT scan of a child with auriculocondylar syndrome.
Working with the University of Washington Department of Genome Sciences, we use candidate gene analysis, gene expression studies and next-generation sequencing to identify the genetic causes of rare craniofacial conditions, including auriculo-condylar syndrome, acromelic frontonasal dysplasia, Mercedes synostosis and oculo-oto-facial dysplasia.
This has immediate benefits for patients and families, including improved genetic counseling and family planning. These discoveries also fuel our developmental biology research to identify biologic variations that can be targeted for improved treatments.
Harnessing the Power of Collaboration
Our lab's highly collaborative nature brings researchers with different specialties together to investigate all facets of craniofacial conditions. We work side by side with other researchers and clinicians in Seattle Children's Craniofacial Center, and at the University of Washington, Sage Bionetworks and other institutions. This helps us build a comprehensive understanding of these disorders. Our long-term goal is to translate this knowledge into diagnostic tools, therapies and techniques that improve the lives of patients and their families.
Investigator Biography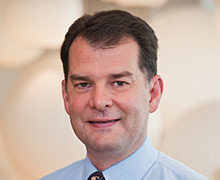 Michael L. Cunningham, MD, PhD, is chief of the Division of Craniofacial Medicine and professor of pediatrics at the University of Washington School of Medicine. He is medical director of Seattle Children's Craniofacial Center and holds the Jean Renny Endowed Chair in Craniofacial Medicine. He is also adjunct professor in the Departments of Biological Structures, Oral Health Sciences and Pediatric Dentistry at the University of Washington.
Cunningham balances responsibilities in administration, patient care and research. He does bedside teaching of medical students, graduate and postdoctoral students, pediatric residents and dental students. His clinical interests focus on the diagnosis and long-term interdisciplinary care of children with craniofacial malformations, with a particular interest in craniosynostosis.
Cunningham's lab has been open since 1993 and is funded through the National Institute of Dental and Craniofacial Research.
Publications
View a complete list of Dr. Michael Cunningham's publications on PubMed.
Support Craniofacial Research at Seattle Children's
The Cunningham Lab and Seattle Children's Craniofacial Center are poised to make important discoveries that will help improve care of children with craniosynostosis, cleft lip and palate, craniofacial microsomia and other conditions affecting hundreds of thousands of patients worldwide. Much of the center's success in research and in obtaining federal funding is due to pilot research projects funded through philanthropy. Consider making a donation to craniofacial research.
Participate in Research
Help us answer questions about childhood health and illness, and help other children in the future. Learn more.