Jason Mendoza, MD, MPH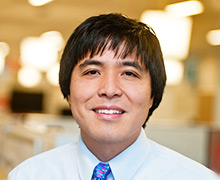 Dr. Jason Mendoza has devoted his career to eliminating health inequities by the promotion of physical activity and healthy eating among low-income and racial/ethnic minority children or children with chronic diseases. He conducts community and school-based research on reducing sedentary activities, such as television viewing, and increasing physical activity, such as through the "walking school bus" and other "safe routes to school" programs. He also leads research on the influence of food insecurity on chronic diseases in children, such as HIV and diabetes.
Trina Colburn, PhD
Dr. Trina Colburn is the research manager for Dr. Jason Mendoza's projects. She is a Seattle native and received her PhD in clinical psychology from Seattle Pacific University and her BA in psychology from the University of Washington. She has been actively involved in various projects focused on the treatment and prevention of childhood obesity since 2007. She loves music, movies and spending time outdoors.
---
Fit 5 Kids Study Team
Roger Goosey, BS
Roger Goosey is a research associate on the team, and coordinator for the Fit 5 Kids study. He is originally from Southwest Washington and received his BS from the University of Washington, where he majored in biology and minored in global health and education. Before joining the team, he worked on clinical research studies in Portland, Oregon. Some of his favorite activities include being outdoors or around music.
Jennifer Salgado, BA
Jennifer Salgado is the clinical research associate and coach for the Fit5Kids study at Seattle Children's Research Institute. Jennifer received her BA in public health and early childhood and family studies at the University of Washington. Having grown up in a time when technology was not as advanced as today, creativity was key to having fun, which is why she enjoys the partnership with the Headstarts in the study. Salgado enjoys working with children and families in this study to help decrease the use of screen time and encourage alternative activities for children to engage in. She enjoys hiking, traveling and movies.
Dayne Ornelas Gonzales, BS
Dayne Ornelas Gonzalez is one of the research assistants for the Fit5kids Study. She was born in Mexico and moved to Washington when she was seven years old. She received a BS in neurobiology and a BS in psychology from the University of Washington. She is passionate about public health research, specifically public health research that incorporates the Latinx population. Some of her favorite activities include checking out new coffee shops around Seattle, trying gourmet donut shops and going for really, really long walks.