Behavior and Development Lab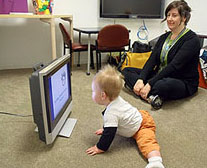 The Center for Child Health, Behavior and Development (CCHBD) is at the forefront of developing therapies to improve outcomes for children with autism, depression, obesity, attention problems and a variety of other conditions. The Behavior and Development Lab is the epicenter of this process, providing CCHBD investigators with a dedicated, state-of-the-art research facility. The Lab is conveniently located at Seattle Children's Research Institute's 8th Avenue office in Seattle's South Lake Union area.
The Behavior and Development Lab includes a clinical space with four meeting and observation rooms and an additional exam room. Access to testing rooms is controlled by a coded door. There is a separate waiting area with chairs and toys for the use of participants and their siblings and parents.
The Behavior and Development Lab's shared space and equipment includes:
Observation room with one-way glass viewing
Two consult rooms
3D camera room (available upon request from the Speltz lab)
Exam room
Exam table (for non-invasive treatments, e.g., measurements)
TV/consult room
Two computers (available upon request from the Webb group)
Two tripod cameras
Two ceiling-mounted cameras
Monitoring/ recording/ viewing equipment
Stadiometer
Weight scale
Trapezoid/regular tables for adults and children
Laptop available for checkout
Sinks and space for clinical supplies
The Behavior and Development Lab is open only to CCHBD members, reducing competition for space and helping ensure that studies are conducted efficiently. CCHBD eligibility policies apply. The lab is not intended to be a treatment facility.
Physical Address
1920 Terry Ave.
Seattle, WA 98101
Mailing Address
M/S CURE-03
PO Box 5371
Seattle, WA 98145-5005