Welcome to the Kraft Lab!
Our work focuses on improving patients' and participants' experiences with clinical and translational research and the clinical implementation of emerging technologies. We aim to promote clinical and research practices that advance equity in the development, implementation, and evaluation of biomedical innovations.
---
Investigator Biography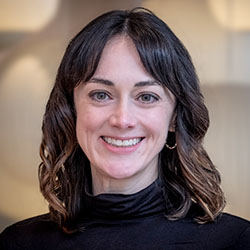 Stephanie Kraft, JD
Stephanie A. Kraft, JD, is Assistant Professor in the Department of Pediatrics at the University of Washington and Director of Research for the Treuman Katz Center for Pediatric Bioethics and Palliative Care at Seattle Children's Research Institute. She is also a consultant on the Research Bioethics Consultation Service at the Institute of Translational Health Sciences. Professor Kraft received her BA in Economics from Stanford University and her JD summa cum laude with a concentration in Law and Health Sciences from the University of California Hastings College of Law. She completed a postdoctoral fellowship in bioethics at the Stanford Center for Biomedical Ethics.
---
Current Research/Scholarship Projects
Professor Kraft's current work, funded by the National Human Genome Research Institute (K01HG010361), aims to incorporate evidence about research participants' values into a researcher-facing educational intervention to improve respect and equity in research recruitment.
She is also a co-investigator at the Institute of Translational Health Sciences, which aims to advance translational science to benefit patients and communities. Professor Kraft is part of the Biomedical Informatics and Integrating Special Populations teams, where her work addresses the ethical and equitable use of tools such as machine learning and telehealth in research.
Highlighted Publications
Kraft SA, Cho MK, Gillespie K, Halley M, Versova N, Ormond KE, Luft H, Wilfond BS, Lee SS. Beyond consent: Building trusting relationships with diverse populations in precision medicine research. American Journal of Bioethics 2018;18(4):3-20. PMCID: PMC6173191
Kraft SA, McMullen C, Lindberg NM, Bui D, Shipman K, Anderson K, Joseph G, Duenas DM, Porter KM, Kauffman TL, Koomas A, Ransom C, Jackson P, Goddard KAB, Wilfond BS, Lee SS. Integrating stakeholder feedback in translational genomics research: An ethnographic analysis of a study protocol's evolution. Genetics in Medicine 2020;22:1094-1101. PMCID: PMC7275883.
Kraft SA, Porter KM, Duenas DM, Sullivan E, Rowland M, Saelens BE, Wilfond BS, Shah SK. Assessing parent decisions about child participation in a behavioral health intervention study and utility of informed consent forms. JAMA Network Open 2020;3(7):e209296. PMCID: PMC7395235.
Kraft SA, Rothwell E, Shah SK, Duenas DM, Lewis H, Muessig K, Opel DJ, Goddard KAB, Wilfond BS. Demonstrating "respect for persons" in clinical research: Findings from qualitative interviews with diverse genomics research participants. Journal of Medical Ethics 2020; Published Online First: 06 October 2020. PMCID: PMC8021602.
Bridges C, Duenas DM, Lewis H, Anderson K, Opel DJ, Wilfond BS, Kraft SA. Patient perspectives on how to demonstrate respect: Implications for clinicians and healthcare organizations. PLoS One. 2021;16(4):e0250999. PMCID: PMC8084197.
View a full list of Professor Kraft's publications on MyBibliography.
Participate in Research
Help us answer questions about childhood health and illness and help other children in the future. Learn more.
Contact Us
Physical Address
1900 Ninth Ave.
Seattle, WA 98101
Mailing Address
M/S JMB-6
1900 Ninth Ave.
Seattle, WA 98101