Press Releases
Seattle Children's Announces New Chief Development Officer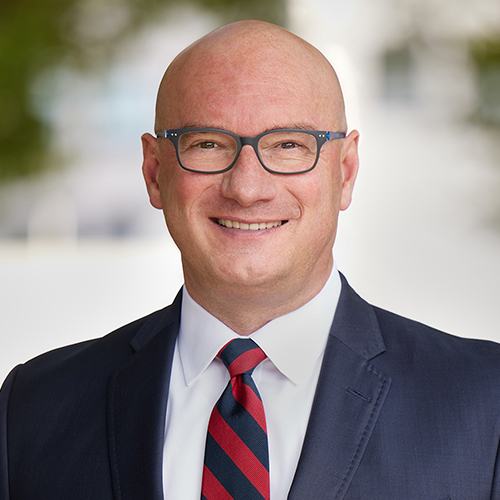 5.5.22
Dondi Cupp appointed senior vice president and chief development officer, replacing former Foundation president Doug Picha, who retired earlier this year
SEATTLE, May 5, 2022 – Today, Seattle Children's announced the appointment of Dondi Cupp as its new senior vice president and chief development officer leading the Seattle Children's Foundation and Guild Association effective June 2, 2022. Cupp joins Seattle Children's from Oregon Health & Science University Foundation where he served as senior vice president and chief development officer and was responsible for a comprehensive fundraising program that completed a $2 billion fundraising effort in 2021.
"Seattle Children's just ended a very successful 'It Starts With Yes' campaign, but the work of ensuring access to equitable healthcare for patients regardless of their family's ability to pay never stops," said Cupp. "I'm excited to work closely with the hospital's leaders and our generous community to direct the Seattle Children's Foundation into its next chapter of philanthropy and fundraising priorities."
As senior vice president and chief development officer, Cupp will oversee all philanthropic programming efforts responsible for advancing Seattle Children's core mission to care for every child regardless of their family's ability to pay, delivering on the promise of groundbreaking pediatric research, unlocking the mysteries of the childhood brain, and launching a new era for community health and wellness.
"We are incredibly fortunate to have someone with Dondi's experience and achievements at a national level joining the world-class team at Seattle Children's," said Dr. Jeff Sperring, chief executive officer. "I'm excited to work alongside him to bring more hope, care and cures to the children we serve."
Cupp's career in philanthropy spans more than 34 years, first serving as associate director of the Western Washington University Foundation in Bellingham, and later joining the University of Washington as senior director of development for the sciences before becoming assistant vice president of advancement. Cupp also spent several years as associate vice president for development in the Office of University Development at the University of Michigan. During his tenure at the University of Washington, Cupp was nominated by his peers for the David B. Thorud Leadership Award and in 2006 received the Marilyn Batt Dunn Endowed Award for Excellence in University Advancement.
Cupp holds a bachelor's degree in journalism and public relations from the University of Oklahoma. He is a fellow of the Advancement Leadership Academy, a CASE Laureate recognizing volunteer professional service, and a recipient of the CASE Crystal Apple for excellence in teaching.
MEDIA CONTACT
Jeanine Takala, Manager, Public Relations
About Seattle Children's
Seattle Children's mission is to provide hope, care and cures to help every child live the healthiest and most fulfilling life possible. Together, Seattle Children's Hospital, Research Institute and Foundation deliver superior patient care, identify new discoveries and treatments through pediatric research, and raise funds to create better futures for patients.
Ranked as one of the top children's hospitals in the country by U.S. News & World Report, Seattle Children's serves as the pediatric and adolescent academic medical center for Washington, Alaska, Montana and Idaho – the largest region of any children's hospital in the country. As one of the nation's top five pediatric research centers, Seattle Children's Research Institute is internationally recognized for its work in neurosciences, immunology, cancer, infectious disease, injury prevention and much more. Seattle Children's Foundation, along with Seattle Children's Guild Association – the largest all volunteer fundraising network for any hospital in the country – works with our generous community to raise funds for lifesaving care and research.
For more information, visit seattlechildrens.org or follow us on Twitter, Facebook, LinkedIn, Instagram or on our On the Pulse blog.