Press Releases
Seattle Children's Announces Chief Scientific Officer
9.18.23
Dr. Vittorio Gallo appointed senior vice president and chief scientific officer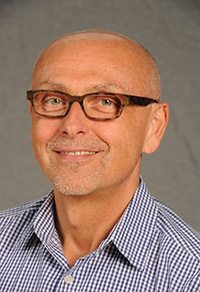 Today, Seattle Children's announced the appointment of Dr. Vittorio Gallo as its new senior vice president and chief scientific officer. Dr. Gallo will serve as the principal scientific executive of the health system. He most recently served as both interim chief academic officer for Children's National Hospital and interim director of Children's National Research Institute. He was also associate dean for Child Health Research, and a professor of pediatrics, pharmacology and physiology at George Washington University School of Medicine and Health Sciences.
"I am honored to have the opportunity to support this nationally recognized institution and I look forward to helping accelerate our research to have an even greater impact on pediatric healthcare," said Dr. Gallo. "Our research community plays an essential role in helping deliver cutting-edge clinical care and I am eager to bolster our work to provide more hope, care and cures to the patients and families we serve."
As senior vice president and chief scientific officer, Dr. Gallo will provide scientific leadership for Seattle Children's Research Institute and serve as a member of the Seattle Children's Executive Leadership Team.
Dr. Gallo has held several leadership roles supporting basic science, translational research, innovation and commercialization. During his 21 years at Children's National, in collaboration with administrative, clinical and scientific leaders, he led the development and implementation of strategic plans for Children's National Research Institute; their Center for Neuroscience Research; and the District of Columbia Intellectual and Developmental Disabilities Research Center.
"Vittorio's broad leadership experience provides him with a holistic perspective on strategic scientific development and implementation — expertise we are excited for him to bring to Seattle Children's, integrating research with care for the growing number of patients who need us," said Dr. Jeff Sperring, CEO, Seattle Children's.
Dr. Gallo completed his doctoral degree research at the Institute of Cell Biology, National Research Council, Rome, and received his PhD in biochemistry and neurobiology from the University of Rome. He did his postdoctoral work at the MRC Developmental Neurobiology Unit, London; at the Laboratory of Preclinical Pharmacology, National Institute of Mental Health, NIH; and in the Department of Pharmacology at University College, London.
Press Contacts
Seattle Children's
Casey Egan, casey.egan@seattlechildrens.org
About Seattle Children's
Seattle Children's mission is to provide hope, care and cures to help every child live the healthiest and most fulfilling life possible. Together, Seattle Children's Hospital, Research Institute and Foundation deliver superior patient care, identify new discoveries and treatments through pediatric research, and raise funds to create better futures for patients.
Ranked as one of the top children's hospitals in the country by U.S. News & World Report, Seattle Children's serves as the pediatric and adolescent academic medical center for Washington, Alaska, Montana and Idaho – the largest region of any children's hospital in the country. As one of the nation's top five pediatric research centers, Seattle Children's Research Institute is internationally recognized for its work in neurosciences, immunology, cancer, infectious disease, injury prevention and much more. Seattle Children's Foundation, along with Seattle Children's Guild Association – the largest all volunteer fundraising network for any hospital in the country – works with our generous community to raise funds for lifesaving care and research.
For more information, visit seattlechildrens.org or follow us on Twitter, Facebook, LinkedIn, Instagram or on our On the Pulse blog.