Press Releases
Seattle Children's Announces Chief Research Operations Officer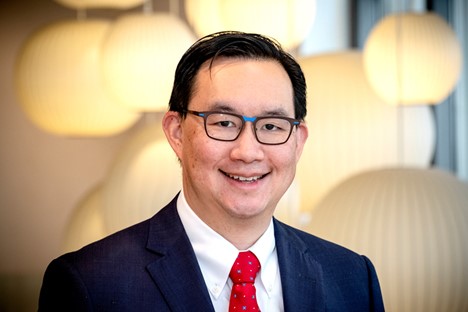 9.13.22
Dr. Eric Tham appointed senior vice president and chief research operations officer
SEATTLE, Sept. 13, 2022 – Today, Seattle Children's announced the appointment of Dr. Eric Tham as its new senior vice president and chief research operations officer. Tham will focus on research administration, finance, operations and continue broader research leadership, effective immediately. Since 2021, Tham has served as interim senior vice president of Seattle Children's Research Institute.
"I'm excited to help guide the research division as it continues to grow and tackle big questions around improving child health and health equity," said Tham. "I look forward to continuing to work with Seattle Children's leadership to help steer the research division into its next chapter."
As senior vice president and chief research operations officer, Tham will have overall executive responsibility for the administration, finances and operation of Seattle Children's Research Institute and the research division. He will be responsible for organizational leadership, fiscal matters and the extension of the Seattle Children's vision, mission and goals across the research division, as well as lead equity, diversity and inclusion and anti-racism strategies.
"Eric's deep knowledge of our research division and expertise as an administrative senior leader, together with his background as a physician and biomedical informatics researcher, position him to thrive in this role," said Dr. Jeff Sperring, chief executive officer. "I look forward to continuing to work alongside him to provide more hope, care and cures to the patients and families we serve."
Prior to his current role, Tham served in a variety of leadership positions at Seattle Children's, including chief research information officer, interim chief information officer, vice president of information technology and clinical research operations, and associate chief information officer. Tham has also worked as a faculty member at the University of Colorado and practiced pediatric emergency medicine at Children's Hospital Colorado and Seattle Children's.
Tham completed his residency and fellowship at Children's Hospital of Pittsburgh and the University of Pittsburgh School of Medicine. He received his medical degree from Northwestern University Feinberg School of Medicine and his master's in biomedical informatics from the University of Pittsburgh School of Medicine. Tham has also received certifications from the American Board of Pediatrics and American Board of Preventative Medicine.
MEDIA CONTACT
Casey Egan, Seattle Children's, casey.egan@seattlechildrens.org
About Seattle Children's
Seattle Children's mission is to provide hope, care and cures to help every child live the healthiest and most fulfilling life possible. Together, Seattle Children's Hospital, Research Institute and Foundation deliver superior patient care, identify new discoveries and treatments through pediatric research, and raise funds to create better futures for patients.
Ranked as one of the top children's hospitals in the country by U.S. News & World Report, Seattle Children's serves as the pediatric and adolescent academic medical center for Washington, Alaska, Montana and Idaho – the largest region of any children's hospital in the country. As one of the nation's top five pediatric research centers, Seattle Children's Research Institute is internationally recognized for its work in neurosciences, immunology, cancer, infectious disease, injury prevention and much more. Seattle Children's Foundation, along with Seattle Children's Guild Association – the largest all volunteer fundraising network for any hospital in the country – works with our generous community to raise funds for lifesaving care and research.
For more information, visit seattlechildrens.org or follow us on Twitter, Facebook, LinkedIn, Instagram or on our On the Pulse blog.