Press Releases
Seattle Children's and four other leading children's hospitals secure $29M in federal funding to enhance future pandemic readiness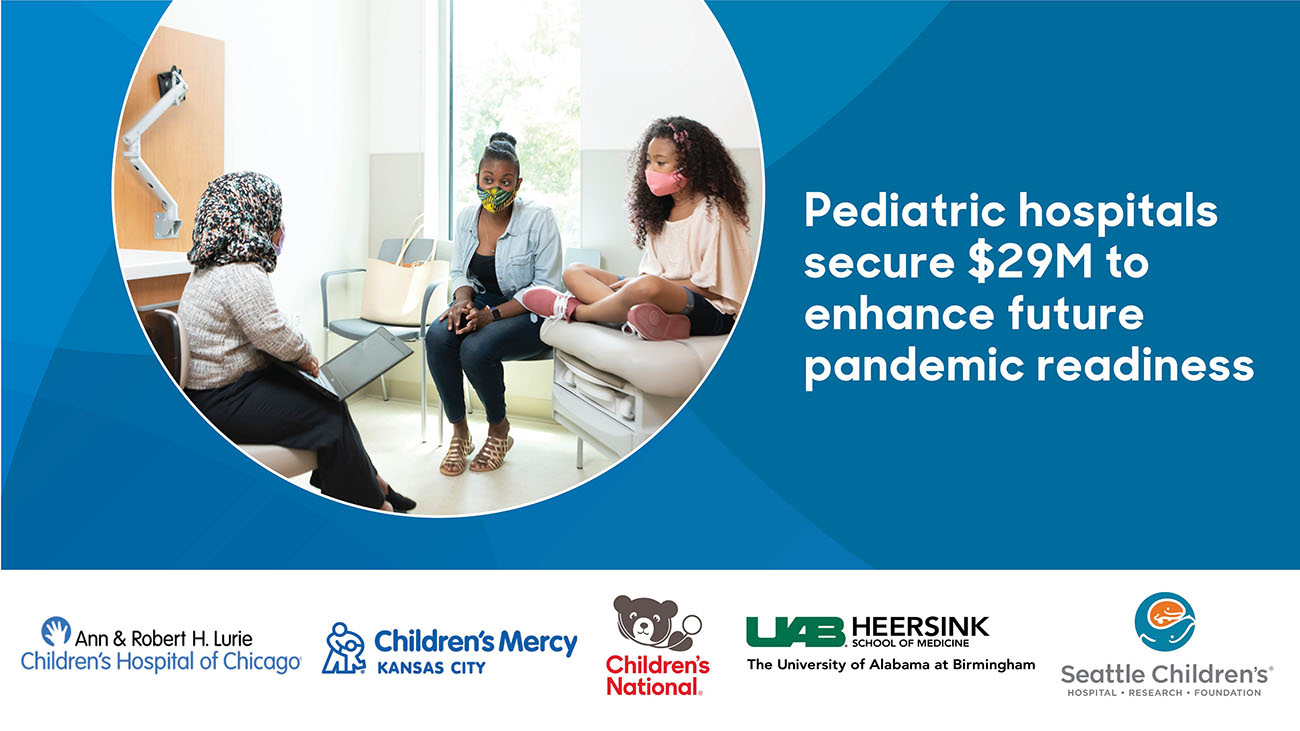 7.19.22
Hospitals will focus on preventing the health disparities that emerged during COVID-19
Seattle Children's and a network of children's hospitals from across the country will coordinate on the response to future pandemics and other disasters through a new $29 million grant from the Health Resources and Services Administration (HRSA). The group, known as the Pediatric Pandemic Network (PPN), will focus on the unique needs and challenges to children during disasters and pandemics to ensure health equity is at the forefront of emergency planning.
In addition to Seattle Children's, the hospitals include:
Children's National Hospital in Washington, D.C. (lead institution)
Lurie Children's Hospital of Chicago
University of Alabama at Birmingham Department of Pediatrics at Children's of Alabama
Children's Mercy Kansas City
As a key member of this network, Seattle Children's brings expertise and leadership in data management and analytics and is one of only three children's hospitals to be awarded the industry-recognized Healthcare Information Management Systems Society, Inc. Analytics Adoption Model for Analytics Maturity Stage 7, the highest level attainable. Seattle Children's will help lead the Data Management and Analytics Core for the PPN, including:
Providing study design and methodological support for emergency preparedness, education and telehealth projects
Working across the PPN to ensure all sites have necessary Institutional Review Board (IRB) approval and data sharing agreements
Assisting with the analysis and interpretation of data
Collaborating on the development of standardized procedures to efficiently convert periodic data downloads from central study databases into well documented, analysis-ready datasets to populate a data dashboard
Collaborating with project leads on the interpretation of results for the development of best practices and publications
Application of new methods to extract information
"As one of the first hospital systems in the U.S. to receive COVID-19 patients, we quickly learned that sharing clinical pathways, personal protective equipment (PPE) protocols and communication guidance early in the pandemic helped support the planning and response of other pediatric centers," said Danielle Zerr, MD, MPH, division chief and medical director of infection prevention at Seattle Children's. "An important role of the Pediatric Pandemic Network will be to rapidly and reliably disseminate information in real-time. We're proud to combine our knowledge and expertise together with these other hospitals to ensure a faster and more coordinated response to pediatric care in future pandemic situations."
The hospitals recognize that while the COVID-19 pandemic has been devastating for the entire world, the pediatric population, in particular, has been challenged by a lack of established coordination among pediatric care providers. In addition to addressing health equity, the funding facilitates the following:
Establishing pathways to gather and disseminate research-informed insights into how to care for children in a future pandemic to both medical providers and community organizations
Developing a telehealth infrastructure to support the care of acutely ill children and expand mental health access
Expanding pediatric-focused emergency preparedness and planning with a focus on behavioral health, social support and educational services, all of which are typically provided by community organizations
"As the current pandemic has proven to the world, pandemics and public health crises magnify pre-existing environmental, health, social and economic inequities," said Joelle Simpson, MD, MPH, principal investigator of the grant, division chief of Emergency Medicine and medical director of Emergency Preparedness at Children's National. "Communities of color not only feel the impact of pandemics and disasters far more severely than others, but also have more difficulty obtaining aide and assistance. If the needs of vulnerable populations are not addressed in emergency planning, the national disaster preparedness strategy could fail for all."
In September 2021, HRSA launched the Regional PPN by funding five pediatric hospitals to support the planning and preparation of children's hospitals to respond to a global health threat. This new grant doubles the size and reach of the network in order to benefit all children in the nation.
About Seattle Children's
Seattle Children's mission is to provide hope, care and cures to help every child live the healthiest and most fulfilling life possible. Together, Seattle Children's Hospital, Research Institute and Foundation deliver superior patient care, identify new discoveries and treatments through pediatric research, and raise funds to create better futures for patients.
Ranked as one of the top children's hospitals in the country by U.S. News & World Report, Seattle Children's serves as the pediatric and adolescent academic medical center for Washington, Alaska, Montana and Idaho – the largest region of any children's hospital in the country. As one of the nation's top five pediatric research centers, Seattle Children's Research Institute is internationally recognized for its work in neurosciences, immunology, cancer, infectious disease, injury prevention and much more. Seattle Children's Foundation, along with Seattle Children's Guild Association – the largest all volunteer fundraising network for any hospital in the country – works with our generous community to raise funds for lifesaving care and research.
For more information, visit seattlechildrens.org or follow us on Twitter, Facebook, LinkedIn, Instagram or on our On the Pulse blog.