Life in Seattle as a Resident
Resident Wellness
Social Activities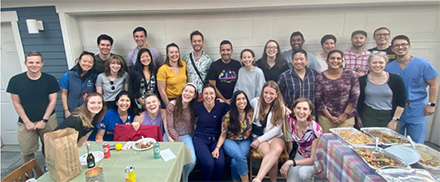 Resident events are a great time to socialize, laugh and relax.
Each year there are many opportunities for social interactions between Seattle Children's Hospital residents, their families and the faculty.
Some of the most popular activities include the Winter Party talent show, an end-of-the-year banquet, and our quarterly Brunch/Burgers/Burritos on the executive residents (previously known as chief residents).
Residents are also divided into one of five pods, each represented by a whale: Minke, Humpback, Beluga, Narwhal, and Orca. Each pod has a mix of R1s, R2s, and R3s, as well as three pod coaches, a pod executive resident, and a pod Assistant Program Director who all work together to provide their pod residents support. Pods also gather several times a year to get to know each other and spend time outside of clinical work.
Wellness Grants
Residents can apply for a grant for just about anything that supports resident wellness. Residents have used funds to buy snacks for book clubs, buy tickets to sporting events, organize a Fantasy Football party, host Pride events, and celebrate holidays like Lunar New Year!
Intern Support Group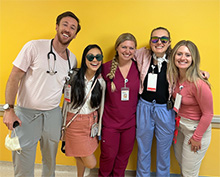 Each Thursday, first-year residents meet together for one hour of protected time with an experienced facilitator. The support group is a great opportunity to meet with fellow R1s and to share the ups and downs of resident life. R2s and R3s have monthly grief debriefs on Thursdays, and several senior support groups throughout the year.
Faculty Supper Club
Residents have the opportunity to sign up for Faculty Supper Club, which involves a faculty member hosting a small group of residents to get to know each another and discuss any topic of the faculty member's choosing – which can be anything from pursuing academia as an outpatient pediatrician to work-life balance as an attending and parent!
Exercise Facilities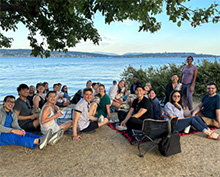 The Intramural Activities (IMA) facility at the University of Washington provides tennis courts, a large indoor swimming pool and extensive workout facilities. Residents can have access to the facilities at the IMA for a small quarterly fee. Residents also have the opportunity to receive a membership at the Magnuson Athletic Club, a great location near Seattle Children's. Seattle has many parks, running routes, and bike paths for exercise opportunities!
Spouse/Family Support
Residency can be a busy time for a resident and their family. We offer free individual or couples counseling, and families are invited to participate in residency-wide social events.
Other Perks
Discounted massages, regional activities, and other services/perks are available to residents through the University of Washington wellness center.