Safety and Injury Prevention
Prevent Window Falls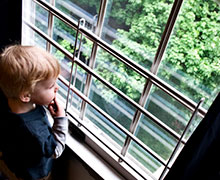 Warmer weather means open windows, and more risk of children falling out of them. Window falls are a common cause of serious injuries and death, and children ages 2 to 5 are at the greatest risk.
Most window falls can be prevented with a little knowledge, use of safety devices, and careful habits.
Always supervise young children.
Keep windows closed and locked if possible.
If your windows open from the top down, open them that way. Open them 4 inches or less.
Install child safety devices on windows 6 feet or more from the ground outside. You can buy window safety devices at hardware stores and online. Be sure to buy devices that an adult can release in case of emergency.

Use child safety window stops to prevent windows from opening more than 4 inches.
Use window guards on windows that you want to open 4 inches or more.

Keep furniture and other things that can be used for climbing away from windows.
Make it a house rule to play at least 2 feet from windows.
If you visit a place where windows are not child-proofed, close and lock them during your visit, and watch your child carefully.
Know that window screens keep bugs out but don't keep kids in. When screened windows are open, kids may lean or push against the screen – popping it out of the window frame and tumbling out after it. Screens are not child safety devices.
Visit Public Health – Seattle & King County for window safety for kids flyers in multiple languages, and more.