Child Development and Parenting
Summer Nurse Camp
About the Program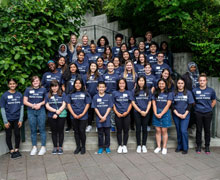 We are committed to recruiting the best nurses, cultivating an inclusive and diverse workforce, and inspiring diverse high school students to pursue a career in nursing.
Every year we offer local high school students the opportunity to participate in our free Nurse Camp at Seattle Children's. The goal of the program is to provide high school students with a background that is historically underrepresented in the biomedical and health sciences an opportunity to engage in learning activities at Seattle Children's that introduce them to nursing career pathways.
During this five-day camp, students will gain insight into the world of pediatric nursing by participating in clinical observation sessions. In these sessions, students will shadow nurses in a clinical environment and observe as they provide patient care and interact with patients and families. (Students will not provide patient care.)
Students will also work through interactive hands-on skills labs to learn and practice various nursing skills on models. In addition, students will have the opportunity to engage with an educational panel to ask questions and discuss nursing as a career path.
Past clinical observation sessions have been offered in the following clinical areas:
Ambulatory
Cancer Care Unit
Cardiac Intensive Care Unit (CICU)
Infusion Clinic
Psychiatry and Behavioral Medicine Unit
Medical Unit
Neonatal Intensive Care Unit (NICU)
Operating Room (OR)
Pediatric Intensive Care Unit (PICU)
Pre/Post-Anesthesia Care Unit (PACU)
Radiology
Surgical Unit
See a description of our nursing units.
Hear staff and former RN rsidents talk about the RN Residency Program at Seattle Children's, a one-year program that prepares new nursing graduates for their role as a pediatric nurse.
Schedule
Dates: Monday through Friday, July 17–21, 2023
Times: 9 a.m. to 3 p.m.
Location: Seattle Children's Hospital Campus, 4800 Sand Point Way NE, Seattle, WA 98105
Provisions: Lunch is provided to campers each day of camp.

The program does not provide or arrange housing for students.
Eligibility
Students must be entering their junior or senior year of high school in the fall of the camp year and be at least 16 years old.
Students must reside in the Puget Sound area.
Students must be available for the entire duration of Nurse Camp (five consecutive days).
Students must be on time and stay for the duration of each day.
Application Information
Applications for summer 2023 are now closed. Acceptance and waitlist notifications will go out in early May 2023. Applications for summer 2024 will open in mid-February 2024.
Contact Us
If you have any questions, please contact us at nursecamp@seattlechildrens.org.