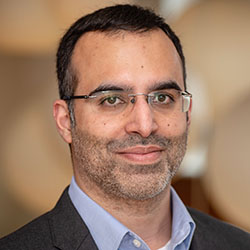 "Working at Seattle Children's allows me to focus on innovative, patient-centered interventions. I am particularly inspired by the opportunity to focus my research on age-specific opportunities to improve health outcomes — such as leveraging social media — in youth and young adults with diabetes. I feel privileged to have the opportunity to work with adolescents and young adults with diabetes every day and am committed to amplifying their voices to address barriers and equity issues within diabetes care."
Dr Malik has been the first provider to teach me about dosing calculations and overall has been very supportive. Our daughter has transitioned to adult care and he has helped our transitioned smoothly. We appreciated his expertise while our daughter was his patient. Thank you Dr Malik.

There are not enough positive words to use in describing our families experiences with Dr. Malik! Among those that will fit in this space are warm, open, proactive, respectful and just an all round super human being. Dr. Malik cared for our son through a patient centered relationship. He cared for our family in the same manner. His brilliance and his professionalism are a gift to every child and family with whom he touches.

I went to Dr Malik for 4 years, he was the most thorough doctor. He was always on top of things, and I couldn't recommend a better doctor (: Thank you Dr Malik

My daughter has been a patient of Dr. Malik's for several years. He is kind, knowledgeable, takes time to answer my questions and thoroughly explains my daughters plan of care. I highly recommend him!!

Dr Malik took care of our Daughter like his own. His explanation and attention to details were exceptional. He is warm and welcoming. He added us to his patients list, even though he had a tight schedule. He is Godsent!
Overview
Board Certification(s)

Pediatrics
Pediatric Endocrinology


Medical/Professional School

Albany Medical College, Albany, NY
Georgetown University Medical Center, Washington, DC
University of Washington School of Public Health, Seattle, WA

Residency

University of Washington School of Medicine GME, Seattle, WA

Fellowship

University of Washington, Seattle, WA

Research Description

As an investigator in the Center for Child Health, Behavior and Development, Dr. Malik leads the Improving Diabetes Outcomes Lab. He is currently involved with multiple studies designed to examine and improve health outcomes in youth and young adults with diabetes:

The development of a health care transition program for emerging adults with diabetes that promotes successful transition to independence with diabetes self-management [Principal Investigator]
The use of social media to support diabetes management in youth with type 1 diabetes [Principal Investigator]
The examination of the impact of food security on glucose levels and health care utilization in youth and young adults with diabetes [Site Principal Investigator]
A Phase 3, open-label randomized clinical trial evaluating the efficacy and safety of Afrezza (inhaled insulin) versus rapid-acting insulin analogs [Site Principal Investigator]
The use of a resilience resource intervention to reduce diabetes distress in adolescents with type 1 diabetes [Co-Investigator]