Christy McKinney, PhD, MPH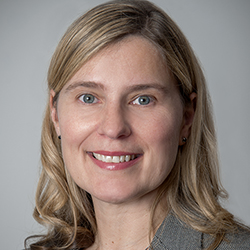 "Im excited to be at Seattle Childrens. My expertise as a dental and craniofacial epidemiologist is unique and being part of dynamic, engaged multidisciplinary research teams that are focused on improving the oral health of children is thoroughly enjoyable. I am fortunate to be in a position where I get to work on research questions that have direct and immediate impact on the lives of newborns and children both locally and globally."
Christy McKinney, PhD, is an Associate Professor in the Division of Craniofacial Medicine, Department of Pediatrics in the School of Medicine at the University of Washington and an Adjunct Associate Professor, Department of Oral Health Sciences in the School of Dentistry at the University of Washington. She is also an investigator in Seattle Childrens Research Institutes Center for Child Health, Behavior and Development, and part of the Seattle Childrens Hospital Craniofacial Center.

She received her doctorate in epidemiology from the University of Washington in 2006. Her research interests are focused on orofacial clefts, nutrition and pediatric dentistry. Her global research collaborations involve partners in Thailand, India, and Ghana.
Dr. McKinney currently studies the unique intersection of oral clefts, maternal nutrition, infant feeding and global health. She spearheaded the development of the NIFTY cup - an infant feeding cup for infants with breastfeeding difficulties such as infants with oral clefts and preterm infants in low resource settings - with a team of multidisciplinary experts from Seattle Childrens, PATH, the University of Washington and Laerdal Global Health. She is the 2017 Inventor of the Year for the University of Washington School of Medicine for this work.

Dr. McKinneys current work also includes pediatric dental research. She is the primary investigator of a grant from the National Institutes of Health investigating the extent to which children are exposed to the chemical Bisphenol A (BPA) during dental treatment. She is also leading an investigation of the impact of the City of Seattle tax on sugar-sweetened beverages on dental caries in children.

An active mentor of junior faculty, Dr. McKinney is the Associate Director of the Institute of Translational Sciences (ITHS) KL2 Career Development program, which trains KL2 Scholars through monthly seminars and small group sessions. She is also the Director of the six-week Summer Institute in Clinical Dental Research Methods in the University of Washington, School of Dentistry, which trains junior faculty from around the world.
Overview
Medical/Professional School

Epidemiology, University of Washington, Seattle
Epidemiology, Tulane Univ.School of Public Health, New Orleans
University of Washington, Seattle

Research Description

Currently, we are working on a study to evaluate the impact of the City of Seattle tax on sugar-sweetened beverages. We are investigating whether children who live in Seattle where sugary beverages are taxed will have a lower rate of dental caries over time as compared to children who live in South King County where there is no tax. This work is funded by grants from Seattle Children?s and the Arcora Foundation. My team is also conducting a prospective cohort study examining the extent to which children receiving resin-based dental restorations and dental sealants are exposed to the chemical Bisphenol A (BPA). We are measuring BPA exposure before and after dental treatment. This is being conducted at the Center for Pediatric Dentistry at the University of Washington and is an R01 grant funded by NIH. We are also conducting a randomized clinical crossover study in Ghana comparing the effectiveness of Nifty Feeding Cup compared to a standard medicine cup to feed preterm infants with breastfeeding difficulties. This is conducted in partnership with investigators at PATH and Komfo Anokye Teaching Hospital in Ghana and is funded through a Saving Lives at Birth Grand Challenge Validation Award.