Palliative Care Program
Northwest Pediatric Palliative Care Coalition (NWPPCC)
What is NWPPCC?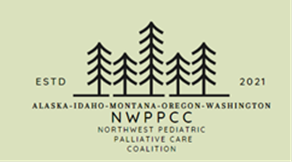 Pediatric Palliative Care teams at Seattle Children's Hospital and OHSU Doernbecher Children's Hospital, had an idea to join with colleagues in the northwest corner of our country to form a pediatric palliative care coalition. In collaboration with the Washington State Hospice and Palliative Care Organization and Oregon Hospice and Palliative Care Association, the Northwest Pediatric Palliative Care Coalition (NWPPCC) for the states of Alaska, Idaho, Montana, Oregon, and Washington, was launched in the fall of 2021.
A survey of key stakeholders in the five-state region brought forth information and the needs of a diverse group of people committed to the care of seriously ill children. It became clear that those surveyed had vastly different access to support for families. Our coalition launched in October 2021 to begin to address these needs.
Vision
The Northwest Pediatric Palliative Care Coalition (NWPPCC) has a vision that all children and families in the Pacific Northwest region facing serious illness will have access to comprehensive palliative care support through the duration of serious illness both in the hospital and at home in the community with the goal to prevent, anticipate and mitigate suffering.
Mission
NWPPCC's mission is to empower our interprofessional workforce to advocate for every child and family to have access to the support necessary to live as well as possible with serious illness. We hope to achieve our mission through:
Supporting one another in providing clinical care in hospitals and in the community
Collaborating with our Pacific Northwest community to advance education and research
Engaging in advocacy and providing leadership and expertise in the region
Identifying gaps within hospice and palliative care in Alaska, Idaho, Montana, Oregon, and Washington state
Thank You to Our Partners
Newsletter Updates 2022:
How to Access Our Services
If you have any questions or would like to learn more, please email the coalition at NWPPCC@seattlechildrens.org.
Meet Our Leadership Team
Anne Anderson, RN, BSN, Seattle Washington
Jori Bogetz, MD, Seattle Washington
Rebecca Weicht Graves, DO, Palliative Care Physician with Providence in Anchorage, Alaska
Fiona Sampey, PA, Palliative Care Bozeman, Montana
Whitney Price, LCSW, CGCS, St Luke's Pediatric Palliative Care program Boise, Idaho
Bob Macauley, MD Bridges Pediatric Palliative Care Team, Doernbecher Children's Hospital, Portland, OR
Monica Holland, PNP Bridges Pediatric Palliative Care Team, Doernbecher Children's Hospital, Portland, OR
Megan Schomer, Parent Advisor, Idaho
April Endsley, Administrative Assistant
Family Resources
Support and bereavement
Provider Resources
Resources by State
Alaska resources
Hospice of Anchorage: A volunteer hospice agency that can provide social support to families with kids with serious illnesses. This includes emotional and spiritual support, info, education, companioning. They don't have nursing or PCA staff.
Phone: 907-561-5322
SALA Medical: Mobile integrated healthcare. Services include med administration, IV access and maintenance, prescription pickup, basic wound care, O2 delivery and maintenance, blood draws, non-emergent transport. Patients can ask the medical provider to contact SALA regarding eligibility and setting up services.
Phone: 907-313-4898
Email: mih@salamedics.com
TEARS Foundation: Child loss support groups, financial support for infant funeral expenses.
Address: 5631 Silverado Way, F-102, Anchorage, AK 99518
Phone: 907-529-4289
Facebook: Alaska Chapter of the TEARS Foundation
Email: alaskachapter@thetearsfoundation.org
Idaho resources
Rays for Rare (Eagle, Idaho): "Light when skies are gray" for families with children with medical complexity.
Camp Rainbow Gold (Boise, Idaho): Their mission is to provide emotionally empowering experiences to Idaho's children diagnosed with cancer and their families.
Camp LOLO (Boise, Idaho): Camp LOLO is a two-day camp held annually for children and teens struggling with grief over the Loss Of a Loved One. LOLO stands for Loss of a Loved one. One of the many needs that grieving children have is to be with others of their own age with similar grief and loss experiences.
Touchstone: The Center for Grieving Children (Boise, Idaho): Sessions facilitated by clinicians and professionals trained in the grief process. A supportive, peer environment. Children's activities during sessions such as group discussion, crafts, and games designed to explore grief. Parental/Guardian group sessions focusing on coping skills and supporting children through the grieving process.
Willow Center for Grieving Children (Lewiston, Idaho): Willow Center for Grieving Children provides support to children, teens, and their families who are grieving the death of a loved one. Willow Center is a non-profit, charitable organization, that provides supports groups and resources for children and teens free of charge. Their program is designed to provide a caring, accepting environment that greatly enriches the healing process by allowing children and families to share their grief with others who have had comparable loss.
Because Kids Grieve (Twin Falls, Idaho): To assist in creating a safe culture in southern Idaho, where children and teenagers, ages 6 through 17, who have experienced the death of someone they care about, can share their feelings of grief and loss, including grief experienced in preparation for these losses, with their peers and supportive adult volunteer advocates as they progress toward eventual healing on their journey through grief.
Oregon resources
Oregon POLST (Physician Orders for Life-Sustaining Treatment) offers resources for end-of-life planning, if needed. Often, this type of planning is more relevant for adults making their own health care decisions.
The Dougy Center, a Portland center that helps families grieving a death.
Brief Encounters, a Portland organization that offers support, support groups and resources for parents grieving a pregnancy or infant.
Washington resources
Contact Us
Northwest Pediatric Palliative Care Coalition: NWPPCC@seattlechildrens.org