Craniofacial Center
Partners in African Cleft Training (PACT)

Partners in African Cleft Training (PACT) is an international cleft lip and palate training program to improve and expand access to cleft lip and palate care in sub-Saharan Africa.
This unique initiative trains health professionals in Ghana, Ethiopia, Nigeria, Liberia, and Kenya to treat cleft lip and palate and to develop local education programs. Participants care for children in their own clinics and train fellow providers in their countries and in other African nations.
The program began as a collaboration between Seattle Children's Hospital and Komfo Anokye Teaching Hospital (KATH) in Kumasi, Ghana.
Dr. Michael Cunningham, medical director of Seattle Children's Craniofacial Center, and Dr. Richard Hopper, the center's surgical director, partnered with Dr. Peter Donkor of KATH to promote team-based care for children with cleft and craniofacial disorders through shared educational and clinical activities. From 2007 to 2011, the program was known as Seattle–Kumasi Advocates for Team Care in Africa (SKATCA).
In 2012, the program was renamed Partners in African Cleft Training (PACT) with the goal of establishing three specialized training centers in sub-Saharan Africa to serve as models of interdisciplinary team cleft care for future African providers and new teams.
Specialized training centers and site directors in sub-Saharan Africa
Surgical: Komfo Anokye Teaching Hospital, Kumasi, Ghana. Dr. Peter Donkor, PACT site director
Anesthesia: Obafemi Owolowo University, Ile-Ife, Nigeria. Dr. Olawunmi Fatusi, PACT site director
Speech Pathology: Yekatit 12 Hospital, Addis Ababa, Ethiopia. Dr. Mekonen Eshete, PACT site director
Since its founding in 2007, the program has trained more than 90 African healthcare providers from nations including Côte d'Ivoire, Ethiopia, Ghana, Liberia, Nigeria, Senegal, South Africa, Tanzania, and Kenya. In total there have been 14 in-person week-long training workshops with over 140 participants representing 8 disciplines (surgery, anesthesia, speech, orthodontics, pediatrics, nutrition, nursing, and social work) in support of interdisciplinary team care. Participating teams have expanded the size and makeup of their teams. Many of the first trainees in the program are now training other cleft team providers and some are team leaders.
In 2020 in-person workshops were replaced by virtual events. These included a week-long workshop and quarterly seminars. A virtual classroom was established in 2022. Planning for an in-person workshop in Ghana is in progress.
Additional impacts from this program include design of the NIFTY cup (infant feeding cup for infants with cleft palate) and the establishment of a speech pathology program at the University of Addis Ababa (Ethiopia) and funded surgical training program for cleft-related procedures at Komfo Anokye Teaching Hospital (Ghana).
Seattle Children's Takes Cleft Training to Africa
Drs. Michael Cunningham and Richard Hopper of Seattle Children's discuss how Partners in African Cleft Training (PACT) is creating a sustainable environment for African healthcare professionals to become self-sufficient in treating cleft cases.
Interdisciplinary Approach to Cleft Care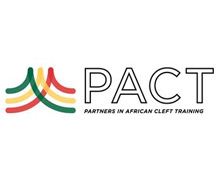 PACT emphasizes the same interdisciplinary approach used at Seattle Children's Craniofacial Center and has received international praise for its effectiveness and quality of care.
PACT is dedicated to creating a quality, Africa-based model where local interdisciplinary cleft teams objectively assess their outcomes and ensure quality of results.
Ways to Help
With your support, we can train more African providers – and help many more African children with cleft lip and palate. Designate your donation to Partners in African Cleft Training/Unknown Child Fund for International Patients. Thank you.
Contact Us
Contact Anne Hing MD, PACT program director, Seattle Children's Craniofacial Center at Craniofacial.PACT@seattlechildrens.org for more information.