Representation Matters
Seattle Children's aims to have a workforce that reflects the diversity of patients and families served. Research shows this improves health outcomes, patient and family experience, and innovation. Diverse representation across all levels of the organization is important as every role — not only clinical providers- contributes to the whole Seattle Children's culture and atmosphere and how patients and families experience Seattle Children's.
Diversifying the Workforce and Addressing Challenges
Currently meeting the goal of 40% employee racial and ethnic diversity, Seattle Children's numbers are moving the right direction. Over the past five years, Seattle Children's has seen the following progress:
The Executive Leadership Team increased from 0% racial and ethnic diversity in 2017 to 45.5% in 2022.
Managers across the organization increased from 17.3% racial and ethnic diversity in 2017 to 25.1% in 2022.
Nursing — one of the largest employee groups — increased from 19.2% racial and ethnic diversity in 2017 to 25.3% in 2022.
Racial and ethnic diversity has continued to increase in both the patient and employee population; employee racial and ethnic diversity is outpacing patient diversity (an increase of 3.8% compared to 2.4%). Currently, there is concordance between patients and employees who are Black/African American (both represent 6.6–6.7% of their respective populations) and Native Hawaiian and other Pacific Islanders (0.8% of their respective populations).
However, the Hispanic/Latinx population remains the area where Seattle Children's has the biggest opportunity relative to its patient population with patients representing 19.1% and employees representing 7.7% of their respective populations.
The current labor market is extremely competitive, and Seattle Children's is not immune to employee retention challenges as people reevaluate where and how they want to work. The organization must stay focused on creating an inclusive work environment and retaining its talented workforce. Seattle Children's has developed a number of programs and opportunities in support of the workforce, including:
Investing in Inclusion Network (IN) member professional development and leadership from compensating IN leaders to financially sponsoring members to participate in leadership programs such as Ceresa and the Women of Color Leadership Program.
Investing in leader development pilot programs for frontline leaders, coaching and mentoring for high-impact leaders and an executive development program to support succession planning. These programs will be evaluated and scaled accordingly.
Increasing investment in Tuition Assistance Program from $225,000 to $1 million to enhance education support for employees.
Completing an organization-wide pay review that included both market analysis and pay equity. Approximately 800 employees received pay increases; $3 million was paid in market adjustments, and $460,000 in equity-related increases.
Continuing to develop career pathways to encourage employee career development. FY22 focus areas were medical assistants, pharmacy, radiology, surgery, and interpreter/translation services.
Conducting annual market analysis of employee benefits and prepared enhancements to employee benefits and incentive programs for 2023 calendar year.
Financial and time away resources: The Employee Emergency Assistance Fund provided $1 million to employees who were experiencing financial hardship. The Time Away Sharing Program allows Seattle Children's employees to voluntarily donate time away accrued for a central fund for distribution to other benefit-eligible employees who are experiencing a medical or family medical emergency and who need paid time off beyond what they have personally accrued.
Data Tells a Story
Seattle Children's continues to assess representation data, working to better identify and understand disparities between employees demographics and the patients and families served. Making data available to the workforce is important for transparency and informed decision-making. Last spring, a new tab was added to an existing data dashboard which provides insights on workforce racial and ethnic diversity, and compares the race and ethnicity of patients with workforce for each leader's rollup and direct reports in one place. This shows real-time goal progress, revealing gaps and opportunities.
Seattle Children's continues to evaluate its nursing diversity data by race and ethnicity to ensure clinical teams reflect patient diversity. Recruiting Black/African American and Latinx/Hispanic nurses continues to be challenging for the organization, especially given the limited availability of these diverse nursing groups in the Washington area. Seattle Children's is working on strategies to address this gap in the workforce.
Data collection and reporting is evolving to be more disaggregated, focusing racial and ethnic representation within individual role levels and areas. Work is also underway to better understand retention and the ratio of departures to new hires.
The following charts include a focus on the Executive Leadership Team, managers and nursing, which have been focus areas for Seattle Children's. In particular, leadership has focused on increasing diversity in manager-level leaders due to the amount of frontline team members they hire.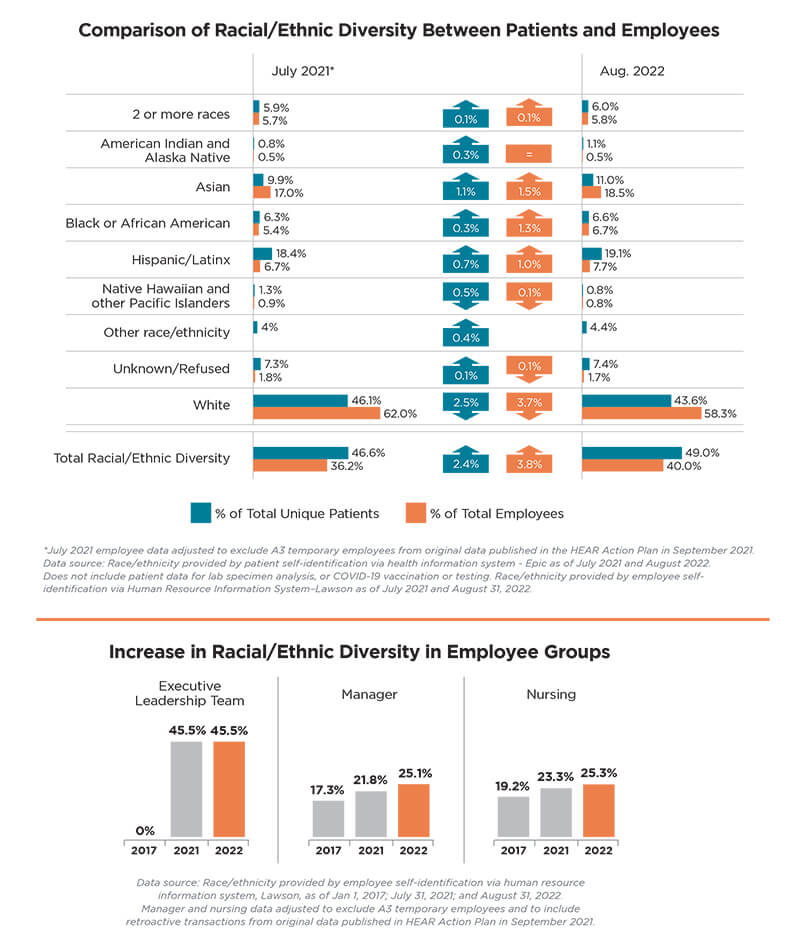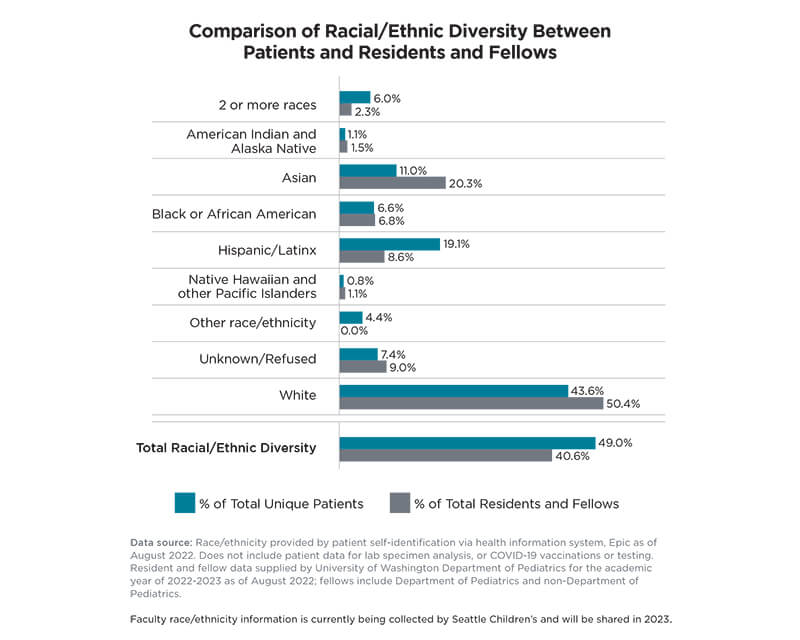 Progress Update
Below is an update on the progress made on actions that Seattle Children's committed to in order to diversify the workforce and support racially and ethnically diverse workforce members.
Action
Create and implement a strategy for recruitment, development and retention of racially and ethnically underrepresented groups.
Progress to date
Work continued to ensure candidate pools were diverse in order to increase hiring of diverse employees.

Recruiting efforts target Historically Black Colleges and Universities (HBCU) as well as Tier 2 and Tier 3 (HBCU), Hispanic Student Institutions (HSI), Professional Diversity Network (PDN) and community partnerships.
Leaders are now required to complete inclusive and equitable recruitment training.
Employee referral program reinstated and boosted with support of Inclusion Networks (IN) by posting hot jobs and spotlighting employees.

Finalized career video series highlighting a culture of inclusion, to be shared with current and future workforce members through SeattleChildrens.org and Seattle Children's social media channels.
A careers page and redesign of SeattleChildrens.org with an EDI focus expected to complete in Q4 of FY23.
A cross-functional team from People and Culture, Legal and Regulatory reviewed inequities caused by inconsistent minimum education qualifications for skill-based job descriptions and updated background check requirements. Revised and standardized minimum education requirements to include "or equivalent experience" for more than 900 job descriptions to resolve challenges caused by background check regulations.
Resourcing a Director of Retention and Engagement to focus efforts on retaining our workforce. Recruitment is underway.