Current Research Studies
Pancreatitis – WebMAP Chronic Pancreatitis
Condition or Therapy:
Chronic pancreatitis, acute recurring pancreatitis
Category:
What is the goal of this study?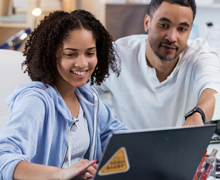 Abdominal pain is common in children with pancreatitis and as they continue into adulthood, the disease progresses with increased pain and greater exposure to opioids. Despite the relevancy of early pain self-management for childhood pancreatitis, there have been no studies of non-pharmacological pain intervention in this population. This study will evaluate a web-based cognitive behavioral pain management program delivered to a cohort of well-phenotyped children with pancreatitis and some community participants to reduce pain, pain-related disability and enhance HRQOL; it will also identify genetic risk factors and clinical and behavioral phenotypic factors associated with treatment response to enable precision medicine approaches.
Who can join the study?
This study may be a good fit for children or teens who:
Have been diagnosed with pancreatitis
Experience pain frequently
Children and one of their parents are asked to participate in the study together. All participants must be able to read and speak English and have reliable access to the internet.
To find out if you are eligible for this study, please complete this short survey.
What will happen if my child takes part in this study?
All study tasks can be completed online; participants can complete the study remotely without needing to travel to any Seattle Children's location.
Parents and children would use an internet program for 8 to 12 weeks, for about 20 to 30 minutes per week. Participants will be randomly assigned to one of two versions of the internet program. One version of the program is focused on skills training and the other is focused on education about managing chronic pain in youth.
Additionally, parents and children will be asked to complete a series of online surveys at 3 different times during a 9-month period, which each take about 20 to 30 minutes. At each of the 3 time points, children are asked to complete a 1 to 2 minute online daily pain diary for 7 days. Families will receive up to $300 in Amazon.com gift cards to thank them for their participation.
Who can I contact for more information?
To learn more, please call 206-884-1845 or email the study coordinator.
---
Study Location(s):
All study activity is done online. There are no in-person visits.
Principal Investigator: